This coverage was created via Musosoup #Sustainablecurator – a contribution was made by the artists to help sustain website costs. Click here and run your own campaign on MusoSoup
---
Lucy Burman – To You The Fool
| | |
| --- | --- |
| May 05, 2023 | The Loudest Quiet Songs |
| Single | Digital | 04:10 |
| Psychedelic Pop / Soul | Alghero, Italy |
Sunsets, Coastal Waves, and Passion
Lucy Burman is a young artist based on Italian island Sardinia. The Beijing-born musician has relocated from the People's Republic of China to the Sardinian Northern West Coast five years ago and has written more than a hundred songs since then. Being a gifted and passionate artist, Lucy Burman combines her own life experience with the soulful and psychedelic arts of the 1960s, 70s and 80s. Not only as a musician but also as an illustrator, Lucy Burman finds ways to express herself and to spread a comforting, understanding and empowering aura.
Sunlight reflecting on an azure Sea
Currently, Lucy Burman is working on her first EP, and she has so far released three singles Hold On, To You The Fool, and Hazel Eyes. Her second single To You The Fool is a very personal track in which Lucy Burman adresses herself and thereby reflects on the hardships that she has been through when she and her family migrated to Sardinia. It is a song about fear, about commitment, contact, about being uprooted. Nevertheless, due to its comforting and warm realisation, it is a song that spends hope and confidence. As an artist, Lucy Burman tells of he experience, expresses what she has been through. Thereby, other people in similar situations may feel understood and may receive new courage.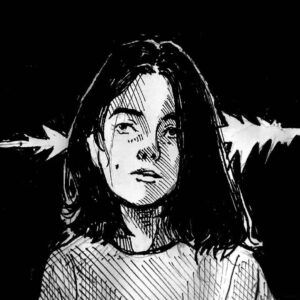 To You The Fool perfectly shows how Lucy Burman soft-footedly dances between genres. The song is founded on a gentle and softly sedating Psychedelic Pop and Rock base in the veins of The Doors. Nevertheless, the arrangements of this sunny tune go far beyond the hazy 60s Rock tunes as Lucy Burman immerses not only her passion but also plenty of Soul into To You The Fool. And thus, there it is: a stunning sound that feels like a sunset reflecting on the most gorgeous Mediterranean shore.
7/10 Mangoes
Picture Credits: Lucy Burman
Songwriter and vocals: Lucy Burman
Arrangement: Lucy Burman and Christian Roylo
Producer, programming, and electric guitar: Christian Roylo
Mixing engineers: Christian Roylo and Adrian Szczepanski
Mastering engineer: Adrian Szczepanski
Recording engineer: Antonio Leardi
Recorded at Roble Factory, Sardinia, Italy
Artist management: The Loudest Quiet Songs