This coverage was created via Musosoup #Sustainablecurator – a contribution was made by the artists to help sustain website costs. Click here and run your own campaign on MusoSoup
---
heavy on the heart. – Mr. Know It All
| | |
| --- | --- |
| April 20, 2023 | Riffsville Records |
| Single | Digital | 02:35 |
| Alternative Rock / Pop Punk | Long Island, NY, USA |
Based on a true story
Fact is stranger than fiction
Well, this phrase or shibboleth is often easily said. But in many cases it takes time until one can joke about weird happenings. This is about the time when New York's Nikki Brady dated a man and gradually found out that she was one out of numerous Nicoles whom he dated. Whether that man's idead was stupidly smart or smartly stupid is for someone else to decide. Nevertheless, it makes a weird story, and Nikki Brady is the vocalist of Long Island's up and coming band heavy on the heart., here's the song about a man who is referred to as Mr. Know It All:
A Zinger of a Debut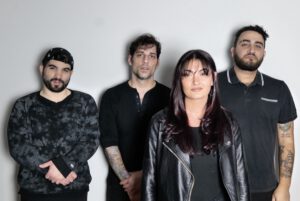 heavy on the heart. began as a duo in mid-2021 and grew to a quartet until October 2022. In January 2023, they already played as a support act for The Color Fred, and later in 2023, the band will release their first longplayer It's You That Needs To Think. Right before the touring and festival is about to kick off, here they are with their first official single release which is available one streaming platforms and comes with a music video.
heavy on the heart. know how to move and excite their audience. They combine dynamic Alternative Rock and melodic Pop Punk while they are not stingy with heaviness. In this energetic sound they present the entertaining ditty of Mr. Know It All. Like this, heavy on the heart. present an Alternative sound that contains pinches of No Doubt on the one hand, and broadly omits the gloomy Seattle sounds on the other. With this sonic recipe, heavy on the heart. are ready to move and enchant people all over the globe.
7/10 Mangoes
All pictures by courtesy of heavy on the heart.
Line Up
Andrew Nicolae – bass
Nick Kolokathis – drums
Costas Themistocleous – guitar
Nikki Brady – vocals