This coverage was created via Musosoup #Sustainablecurator – a contribution was made by the artists to help sustain website costs. Click here and run your own campaign on MusoSoup

---
Drastic//Automatic – Drastic//Automatic
| | |
| --- | --- |
| July 21, 2023 | Independent |
| EP | Digital | 22:47 | 7 tracks |
| Noise Punk / Modern Punk | Sheffield, England |
The First Year
In early 2022, three young musicians from Sheffield appeared in the musical cosmos of Modern Punk, Noise and related genres. Five singles were released between May 2022 and June 2023, and now the trio has set the first milestone on their musical journey. Therefore, Drastic//Automatic is the selftitled debut EP by the band from South Yorkshire on which they culminate the releases of their first active year and furthermore endow the listeners with two unreleased tracks.
The New Punk Sound
For a bit more than twenty minutes, Drastic//Automatic shake their audience's bodies and minds with their version of the Modern Punk movement which is currently rolling over the UK and Europe like a giant tidal wave. It is the sound of artists like Chicken man & The Bad Eggs, Casual Drag, Estelle May, TWO TONNE MACHETE, Cuffs, or Japanese Jesus. When Drastic//Automatic present their interpreation of Modern Punk, it is a sound that is deeply influenced by Noise, darkness and psychedelia. Drastic//Automatic use these hazy and yet sharp-edged soundscapes to spread their messages between cynicism and severity, toughness and fragility, joy and melancholy.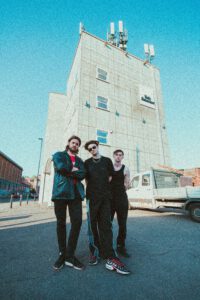 Which Way to the Future?
Between disbelief and sarcasm, Drastic//Automatic take on contemporary society. In a reality that seems to be stuck between nostalgic revelling and terrible plans for the future, the band calls for some deconstructivist action. Both content and sound of the EP Drastic//Automatic encourage the listeners to tear apart deadlocked structures, and to break out of those eternal loops. Progress is necessary, and this Modern Punk sound speaks volumes about that.
8/10 Mangoes
All pictures by courtesy of Drastic//Automatic