This coverage was created via Musosoup #Sustainablecurator – a contribution was made by the artists to help sustain website costs.
Click here and run your own campaign on MusoSoup
Live from the Tiger's Den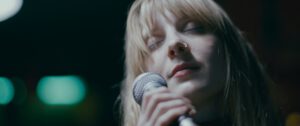 In May 2022, Budapest's Dream Rock and Indie Pop sextet Mayberian Sanskülotts released their latest album "God Tiger Need Chemical Works". Published on cassette and CD via Tom-Tom Records, the eleven-track longplayer was a big success that had the Hungarian six-piece be heard by many people in their home country and beyond. The mix of Hungarian Folk, mesmerizing and psychedelic Shoegaze, sweet Dream Pop and tons of passion combines to a colourful and thrilling soundscape.
A bit later, a very special treat was provided for Mayberian Sanskülotts' fans, and also for lovers of Thai and Vietnamese cuisine. Director and producer Bence Szemerey uttered the idea of performing songs from "God Tiger Need Chemical Works" at Ngon Street Food in Budapest. The session was recorded and filmed, and the stunning result has been uploaded to YouTube in Mid-December 2022.
Tiger Balm and Pho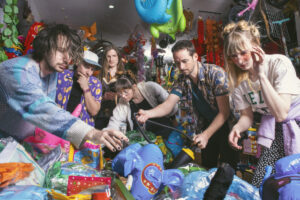 The 21-minute video begins with vocalist Zita Csordás walking through the illuminated streets of nocturnal Budapest while whistling to the latest album's opening track 'Wanna Stop Thinking'. Purposefully, the singer takes a right turn, opens the door to Ngon where she enters the stage and joins the other five band members for a deeply atmospheric and spiritual concert.
Caressed by the dim light, the South East Asian ambient and decor, Mayberian Sanskülotts play an overwhelming show that serves all senses. The joyfully psychedelic sound and the cinematic conversion of this great concert immediately move the listeners' heart and body, so the music can be haptically felt and emulated. And even olfactory and gustatory senses are activated by this live session as tiger balm and pho soup can be perceived by just listening and watching.
The recorded live session contains five tracks from "God Tiger Need Chemical Works", and it is a stunning audiovisual presentation. Whether you regard this as a live record, as a short film or as a piece of cross-sensory arts, this is awesome!
10/10 Mangoes