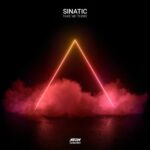 Sinatic – Take me there
Release Date: December 22, 2022
Label: Neon Scanlines
Format: Single | Digital
Duration: 02:37
Genre: Dance Pop
Origin: Germany
We are in that place and time of human history when it's seems that the best idea would be to load the save and try again. From the moment when everything was simple and the biggest trouble was to fix your phone and take your dog to the vet.
And that exactly what Sinatic does – with his latest track 'Take Me There' he invents the time machine that teleports you to the golden era of dance club music or something you'd blast full volume on the beach to play volleyball with your friends.
The track is the classic radio friendly banger with female vocals. All the boxes are checked, as listed below: straight clean beat, bumpy fat bass and simple positive melodies. After a short intro everything just starts playing in a flexy manner, with lyrics about the special place and an invitation to take the singer there. After the first half there is that cooldown bridge and the last closing part that brings back the original beat and everything.
Sinatic is a talented producer who is not here to revolutionise the industry but to provide good careless tunes. Sometimes we need to escape to that special place and breathe – please, 'Take Me There'.
Text by Dmitriy Churilov