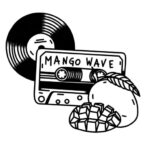 In this series we look back into the year 2013 by reviewing an album from this year every other week.
Want to advertise on MangoWave?
Send an e-mail to raphael@mangowave-magazine.com
---
The Bigger Picture
Quartet Moving Mountains from Purchase, New York has demanded high standards of themselves since they began playing and recording music together. Artsily merging Post Rock and Indie Pop with Emo Rock and Post Hardcore, they have produced melancholic, soulful and atmospheric soundscapes since then. Over the time, progress and development have been key for Moving Mountains. It has now been ten years since they released their third and so far last longplayer, the selfitled album.
One has to dive to find a sunken Treasure
Superficially, one may experience Moving Mountains as a typical Indie Pop Rock album of the newer generation. Emotions, fragility, coziness and some heartbreaking themes define the surface of the nine-track release. But those who dare to look beneath this haze will find deep pleasure. Moving Mountains is a shiny collection of hidden gems, a musical flower that reveals new beautiful details every time one takes another look at it.
Gentle Caresses and Sober Views
Neither in the Indie scene of the 2010s nor in the one of the current decade would Moving Mountains stand out too much. Yet, the album is defined by a deep passion for detail which makes it so strong. Moving Mountains thus present an artistic approach to Indie and Emo Rock without re-inventing either of the two genres,
Next up in this series: Dizzee Rascal – The Fifth