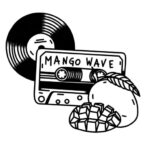 Want to advertise on MangoWave?
Send an e-mail to raphael@mangowave-magazine.com
Brooklyn's Gutter Rock trio TV Moms is touring the United States of America and Canada in Spring and Summer 2023, and they will play in Germany and Czechia in Autumn. This is a great opportunity to review their third longplayer Buzz Mallory from 2021. You can find the tour dates below the short review of the album.
TV Moms – Buzz Mallory
| | |
| --- | --- |
| August 31, 2021 | Independent |
| CD/Cassette/Digital | 45:47 | 10 tracks |
| Gutter Rock | Brooklyn, NY, USA |
The Sound of a Generation
After their selftitled debut (2016) and the sophomore longplayer Believe Anything (2019), New York's TV Moms released their first physical album Buzz Mallory on August 31, 2021. The ten-track album was recorded at Treespeak Studios in Columbia Heights, Minnesota and it contains 45 minutes of a new approach to Grunge and Noise. The 1990s' Seattle sound's impact cannot be denied on any of the songs, and yet TV Moms' Gutter Rock gives the old Grunge idea a new twist. It is the music of and for the Generation Loser. Darkness, melancholy, fuzzy riffs, hazy atmosphere? Check! And additionally, Buzz Mallory contains a snotty punk rock attitude that brings both self-confidence and some no-future to the sound. Imagine being on a sinking ship, accepting it with stoic calm, but sending a text message saying "fu" to your enemies seconds before you drown.
Gutter Rock coming to your Town
Inhabitants of the Northern Hemisphere, and of the USA, Canada, Germany and Czechia can be extraordinarily happy because TV Moms are on tour. And without further rambling, find the tour dates here:
| Date | Town | Venue |
| --- | --- | --- |
| 31 March | Pawtucket, RI, USA | News Cafe |
| 01 April | Worcester, MA, USA | Ralph's Diner |
| 02 April | Garwood, NJ, USA | Crossroads |
| 20 April | Brooklyn, NY, USA | Gold Sounds |
| 21 April | Bethlehem, PA, USA | The Truck Stop |
| 22 April | Pittsburgh, PA, USA | Government Center |
| 22 April | Akron, OH, USA | Annabell's |
| 23 April | Cincinnati, OH, USA | The Comet |
| 24 April | Champaign, IL, USA | The Rec Club |
| 25 April | Milwaukee, WI, USA | Last Rites |
| 26 April | Chicago, IL, USA | Reggie's Music Joint |
| 27 April | Detroit, MI, USA | PJ's Lager House |
| 28 April | Grand Rapids, MI, USA | Mulligan's Pub |
| 29 April | Indianapolis, IN, USA | Melody's Inn |
| 30 April | Dayton, OH, USA | Blind Bob's |
| 01 May | Cleveland, OH, USA | Beachland Ballroom and Tavern |
| 02 May | Port Huron, MI, USA | SchwonkSoundStead |
| 03 May | Windsor, ON, Canada | Phog Lounge |
| 04 May | London, ON, Canada | The Richmond Tavern |
| 05 May | Buffalo, NY, USA | Mohawk Place |
| 06 May | Binghamton, NY, USA | Bundy Museum of History and Art |
| 07 May | New York City, NY, USA | Arlene's Grocery |
| 14 May | New York City, NY, USA | Otto's Shrunken Head |
| 08 June | Brooklyn, NY, USA | Our Wicked Lady |
| 30 October | Cottbus, Germany | CHEKOV |
| 02 November | Hannover, Germany | Nordstadtbraut |
| 03 November | Marburg an der Lahn, Germany | [secret venue] |
| 04 November | Wiesbaden, Germany | Kreativfabrik |
| 06 November | Greiz, Germany | Siebenhitze |
| 08 November | Prague, Czechia | eternia |
| 11 November | Bamberg, Germany | Jugendzentrum |
Stay up to date for possible cancellations or changes on bandsintown