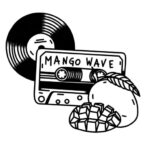 News! News! News!
Want to advertise on MangoWave?
Send an e-mail to raphael@mangowave-magazine.com
---
Four-track EP Pamplemoustique was originally released by Dark Noise Punk trio POLes in 2014. Almost a decade later, a remastered edition of the dissonant tape has been issued by Paris' Tales from the Crypt Recordings. And that is not all of the news: there are rumours about the band planning to end their hiatus.