This coverage was created via Musosoup #Sustainablecurator – a contribution was made by the artists to help sustain website costs.
Click here and run your own campaign on MusoSoup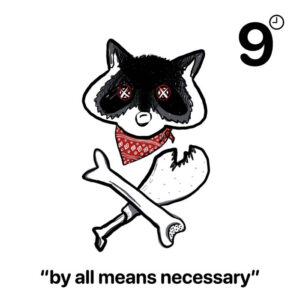 9 o'clock nasty – By All Means Necessary
Release Date: October 08, 2022
Label: Independent
Format: Album | Digital
Duration: 37:59
Genre: Garage Rock / Post Punk
Origin: Leicester, England
A year has passed since Leicester's Post Millenial and New Indie trio 9 o'clock nasty have delighted us with their debut album "Catch Nasty". Since then, ten new EPs and singles have been dropped by the English band. Two of them, the scabrous release "Dekket" featuring a cover version of Justin Timberlake's 'SexyBack', and the apocalyptic collaboration with I am the Unicorn Head "Existential Dread" are not part of this review, but are worth your attention nevertheless. That leaves us with eight short releases since September 2021. Thirteen of the fourteen tracks featured on those EPs and singles have made it to 9 o'clock nasty's sophomore longplayer "By All Means Necessary" – the Christmas song 'What Time is Santa?' will thus remain a hidden gem only available on the EP "Party" and in our hearts. Besides, three recordings from the archives have made it on "By All Means Necessary", as well as a raw demo of the body-positivity anthem 'I'm Bent'.
The Complicated Second Album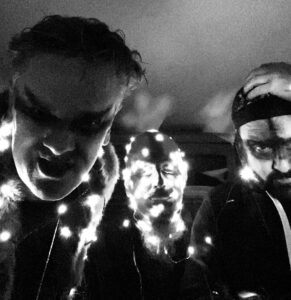 The release of a sophomore longplayer is often – or close to always – connected to certain complexities. A fan base has already formed and thus, expectations are high like in a Charles Dickens novel. Media, fans, neighbours, and the band members themselves tend to compare the sophomore release to the debut. They are asking for progress, development, sustainability, or down-to-earthness. Regarding this complex situation, 9 o'clock nasty have chosen a smart path. Similar to the time before "Catch Nasty" got published, the trio delighted their listeners with regular releases of three three-track EPs at first, and five A-side singles later. Thus, the people were constantly provided new 9 o'clock nasty tunes, and even if a song did not please your taste, you just had to wait for some weeks until the next one was out.
Collected Nastiness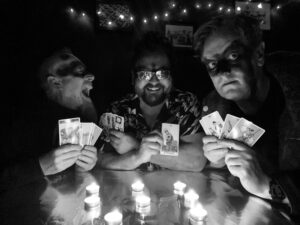 So, is "By All Means Necessary" just a big rehash of 9 o'clock nasty's work of the last twelve months? It most certainly is way more than that! For beginners, there are of course the four archive and demo tracks that cannot be found anywhere else in the trio's discography. Furthermore, the order of the songs reveals room for intertextuality while simultaneously making the listeners look back onto a beautiful year of nasty sounds. This is synergy and holism! If Aristotle had reviewed this album, he would probably have said:
the whole is greater than the simple sum of its parts
But there is more! Those who get their copy of "By All Means Necessary" on the most relevant streaming platform, and the truly illuminated who receive the super secret newsletter even get to hear two bonus tracks!
Of Interdependency and Correlation
The releases of the last twelve months followed certain themes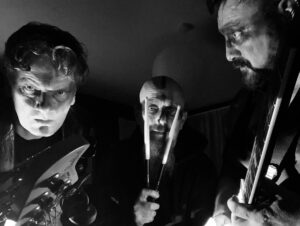 and topics. While many of them where self-explanatory such as the EPs "Sex", "Politic", or "Party", others revealed their content between the lines. Car industry ('Playboy Driver'), affirmation of joy in life ('Food on the Floor'), horoscopes ('Darker Star'), joy of missing out ('Team Player'), and body-positivity ('I'm bent') are concerned in the trio's cynical and nasty way. While those topics were presented bundedly over the last year, the track order on "By All Means Necessary" breaks up this stiff concept. Thus, topics like sex, politics, and other nasties have been stirred up and re-arranged, so their interdepencies can be revealed. This makes 9 o'clock nasty's second album so enjoyable, especially once you discover the intertextualities between the songs. Just skip from 'Do me too' to 'I'm bent' for once if you are looking for an example.
Entertainment Like It's 9 o'clock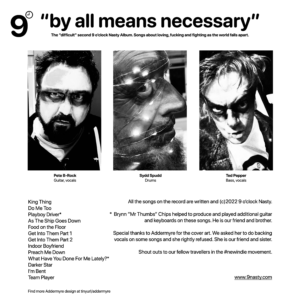 The recipe that makes "By All Means Necessary" the great album that it is, consists of three main ingredients. Firstly, there is this impressive sense for minimalism that makes the (Post) Punk an Garage Rock sound by 9 o'clock nasty. In an earlier review of the single 'Team Player', I referred to the German idiom saying that a good horse only jumps as high as it needs to. Simultaneously to this lean production of sounds, yet there are tons of atmosphere and energy. Just take the electrifying atmosphere of 'King Thing' or the sheer power of the verses in 'Playboy Driver', and you understand the second ingredient. And thirdly, 9 o'clock nasty enchant us with their cynical and dark humour. The lyrics on "By All Means Necessary" often bring up painful subjects, and they know how to cross lines. Nevertheless, those transgression are far from being crude, and 9 o'clock nasty follow the golden rule of satire: they never bully the underlings – or as Georg Büchner would have said:
Frieden den Hütten! Krieg den Palästen! – Peace to the Huts! War on the Palaces!
Nevermind Garage Rock and Post Punk – This Post Millenial New Indie!

As a successor to debut album "Catch Nasty", "By All Mean Necessary" has certainly contributed to refining 9 o'clock nasty's Post Millenial and New Indie sound. Alongside great bands linke The Qwarks or I am the Unicorn Head, 9 o'clock nasty stand for a whole new approach to revolutionary music. Breaking up with genres and stylistic devices, re-arranging, 9 o'clock nasty do not obey any rules – they make their rules, and they disobey them, too. How punk is that?
The trio's complicated second album is a collection of golden bangers and a flagship of the New Indie sound. Whereever and whenever you play this album, the party is getting nasty as if it were 9 o'clock.
9/10 Mangoes
9 o'clock nasty are:
Tedd Pepper – bass and vocals,
Pete Brock – guitars and vocals, and
Sydd Spudd – drums.
Guest appearance: Brynn Chipps – guitar on 'Playboy Driver' and 'What have you done for me lately?'
Featured Playlists:
MangoRotation
MangoWave Release Radar
The Mango 100: Cooking and Housework
The Mango 100: Garage / Surf
The Mango 100: Indie / Alternative
The Mango 100: Party
The Mango 100: Post Punk / New Wave
The Mango 100: Punk / Hardcore
The Mango 100: Tunes for the Road
The Mango 100: Workout
Sound of the UK: The Mango 100
Archive: 9 o'cock nasty on MangoWave (old page/blog) – boop
Archive: 9 o'clock nasty on MangoWave (new page) – beep