Three great new releases – Three short reviews.
If available on Spotify, one song each will also be added to the MangoRotation playlist for 14 days.
Further featured playlists of this post will be listed on the bottom.
Neocracy – Pure Organic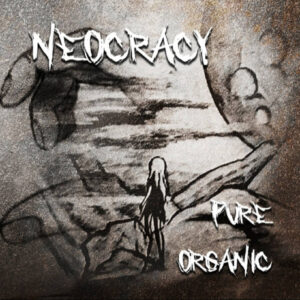 33:13 | EP | 10/08/2022
CD/Digital | Independent
Crossover | Hard Rock
Eisdorf, Germany
The story of Neocracy may sound similar to the one of many bands or projects that began operating between 2020 and 2021. And on the surface, the band from Saxony-Anhalt was formed during the times of lockdown and restrictions, too. First big difference is that Neocracy is rather a revival of Volker Pannek (guitar) which has released two full-length albums. The drummer of this former project, René Jauernik, is featured on the recordings for "Pure Organic", too. Another interesting fact is that band member Tim Pannek (bass and vocals) is Volker's son. Last but not least, vocalist Franziska Stolze takes the front row in this musical project.
The bandname Neocracy is a blended word consisting of the Greek Neo ("new") and the Greek suffix -κρατία ("-cracy", mostly used for defining forms of order such as plutocracy, bureaucracy, democracy, etc.), and it can thus be understood as a neologism for New Order. But instead of playing mellow and melancholic Post Punk, Neocracy provide a versatile crossover mix of genres and styles. It is truly a cross-generational mix that contains 1970s Hard Rock and Folk Rock as well as Nu Metal or Rap. One can thus easily imagine how the musicians who were socialized with musical impacts from different decades have joined their minds and created something that pleases all of their tastes. The result is a various and entertaining album that finds its highlight in the Country Metal hymn 'Respect'. After all, "Pure Organic" lacks sustainability but is definitely a fit for car rides or sit-ins.
6/10 Mangoes
Compadre – Sunset Sins & Sunrise Lullabies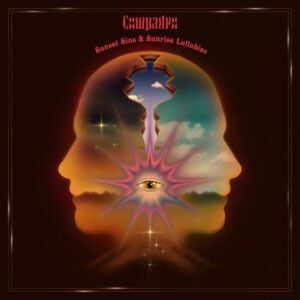 46:22 | Album | 30/09/2022
Vinyl/Digital | Independent
Blues Rock / Alternative Rock
Nuremberg/Munich, Germany
With Compadre's first full-length release "Sunsets Sins & Sunrise Lullabies", another three-piece with base in Germany is featured in this Fresh Mango post. The four-track EP "Pipe Dreams" was featured on the old MangoWave page, and here we are again. With their main residences in the two biggest cities of Bavaria Munich and Nuremberg, the trio has recorded their album in the town of Herzogenaurach which is predominantly known for being the home of Adidas.
Compadre's full-length debut is an album as various as the musicians' background stories, and thus here is the work of German bass player and background vocalist Max Widmann, Scottish producer, keyboard player, guitarist and vocalist Roy Williamson, and Persian-German drummer, percussionist and background vocalist Sassan von Papp. The album is introduced by some heavy and dynamic Blues Rock with plenty of fuzz and atmosphere. As the mood of "Sunset Sins & Sunrise Lullabies" becomes more comfortable then, ballads and Folk Rock sounds come to the foreground. The strength of Comapdre lies in the procudtion of thrilling Garage and Heavy Rock though, as the trio masterfully proves by the fast lane and power workout anthem 'Fuego' – caution, this one is hot! Thus, "Sunset Sins & Sunrise Lullabies" is an album for the whole night. The rather calm tracks may be skippable, but after all, Compadre present a solid relase.
7/10 Mangoes
Asgrauw – Façade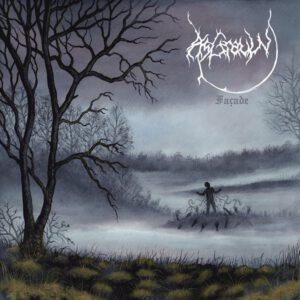 37:49 | Album | 07/10/2022
Vinyl/Tape/CD/Digital | Death Prayer Records
Black Metal | Symphonic Black Metal
Groesbeek, Netherlands
And last but not least, another resh release by a European trio. Music-wise, "Façade" by Dutch band Asgrauw (Dutch: ashen) is a bit different though. Their fifth longplayer is a sonic exploration of the mysticism of life an death which is undertaken on the frosty by imposant wings made from 1990s style Black Metal. More aggressive and filled with deeper melancholia than ever before, Batr (drums, synths, bass), Kaos (bass, vocals, spoken words), and Vaal (guitars, vocals) let their audience dive into the gloomiest depths of Gelderland's fog.
The frozen soundscape that Asgrauw throw the listeners to is born within a borderland between two Black Metal styles. On the one hand, there is that synthie-driven, atmospheric and symphonic 1990s sound that reminds of arists like Dimmu Borgir. On the other hand, Asgrauw present sonic icicles that are made from a combination of Raw and somewhat Post Black Metal impacts comparable to the music by Helrunar or Iskandr. With the spoken lyrics especially, this influence shines through. The construct built between these two worlds appears fragile from time to time and thus impressive passages are endagered of collapsing due to symphonic broad sides. With less emphasis on the synths, "Façade" could have been a much better album. On the upside, it is a Black Metal album that is more beginner-friendly than works of Auserwählt or Praise the Plague for example.
5/10 Mangoes
Featured Playlists:
MangoRotation
MangoWave Release Radar
The Mango 100: Blues
The Mango 100: Cooking and Housework
The Mango 100: Death / Black / Thrash
The Mango 100: Garage / Surf
The Mango 100: Indie / Alternative
The Mango 100: Rockabilly / Psychobilly / Rock'n'Roll
The Mango 100: Tunes for the Road
The Mango 100: Workout
Sound of Germany: The Mango 100
Sound of the Netherlands: The Mango 100