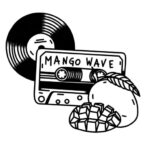 Another little Journey through Time
Want to advertise on MangoWave?
Send an e-mail to raphael@mangowave-magazine.com
---
Never mind the Sauer Krauts
When British Rock'n'Roll band King Kurt released their first album Ooh Wallah Wallah in 1983, the band has already gone through its first major changes in both, line up and band name. The band was originally fronted by vocalist Jeff Harvey and called themselves Rockin' Kurt and his Sauer Krauts. Nevertheless, in the same year they were formed, the band first grew form a quintet to a sextet as guitarist Paul "Thwack" Laventhol joined, and shortened their name to King Kurt shortly after. Only in the following year, 1982, vocalist Harvey left and was then replaced by Gary "The Smeg" Clayton.
For the Rock'n'Roll Empire
Hence, the King's Court was ready to divide and conquer, to expand and colonise, to rock and roll. King Kurt mocked the British Empire's claim to global power, and showed that the sun never sets on the realm of Rock'n'Roll. The music they used on their mission was a heavily rotating mix of classic Rock'n'Roll, (Proto) Punk in the veins of New York Dolls, Americana and Country, and also British Protest Folk. Their versatile style shows parellels to bands like Minutemen or The Kings of Nuthin' to name only which yet stand for the wide musical range.
Rock the Kurt and wreck the Party
Ooh Wallah Wallah is a gem for lovers of Rockabilly, Punk'n'Roll, Alt Country, or destructive parties. The band's debut was not only their most successful album, it is furthermore a shiny piece of Rock'n'Roll history. No royal dynasty, no colonial power, no bar is safe from King Kurt and Ooh Wallah Wallah.