This coverage was created via Musosoup #Sustainablecurator – a contribution was made by the artists to help sustain website costs.
Click here and run your own campaign on MusoSoup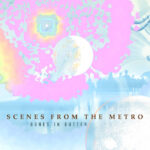 Bones in Butter – Scenes from the Metro
Release Date: January 06, 2023
Label: Independent
Format: Single | Digital
Duration: 05:16
Genre: Post Rock / Dream Rock
Origin: Belgrade, Serbia
Stuck in a Dream
The title 'Scenes from the Metro' may lead to the assumption that the new single by Bones in Butter is some sort of atmospheric (post-) modern tale written as a stream of consciousness telling of different encounters that one may have when travelling underground. It is this kind of literature by Alfred Döblin or Ezra Pound (before he turned to fascism) that would be a perfect fit to a mix of Shoegaze, Post Rock and some sonic experiments, but it is not. Instead, Bones in Butter tell us of the Metro in their hometown, the Београдски метро in Serbian capital Belgrade.
For a hundred years, it has been the great dream of city planners, residents and visitors to travel around Belgrade via underground trains. Whether this will ever happen or not will be revealed by the future. If you are interested in the history of the Београдски метро, click here to read more.
Wishful Dreaming
One hundred years after the plan of building a Metro in Belgrade, Bones in Butter have now released their sonic hommage to this dream of public transport beneath the soil. One day before Serbian Orthodoy Christmas, the sextet around mastermind Milutin Krasevic reminds us of an idea that has often been postponed but never been (completely) given up on. The idea was first uttered in the Kingdom of Serbs, Croats and Slovenes (later called the Kingdom of Yugoslavia), was kept up with Nazi occupation, and stayed present during the times of Socialist Yugoslavia and contemporary times in which Belgrade is the capital of Serbia. Empires and states have risen and fallen, the dream of a Metro has not vanished.
Bones in Butter take it to the next Level
The Serbian band has been famous for their extravagant compositions in which they merge Jazz, Rock and cinematically atmospheric sounds. The new single 'Scenes from the Metro' is something different for two main reasons. Firstly, the Jazz influence can hardly be spotted in this soundscape. Secondly and more importantly, 'Scenes from the Metro' is way more experimental than any previous Bones in Butter song. The shoegazy, dreamy and softly cool Post Rock song is backed by a sample of Lale Andersen's 'Lili Marleen' played backwards. The fact that the original song was premiered on Radio Belgrade during the Nazi occupation in 1941 is an interesting side note here.
Bones in Butter have created dystopian sounds before, but 'this is a 'Scenes from the Metro' tops previous sonic tales. The dark and melancholic story that the band tells this time is a true one. And thus, the song begins by forming a thick mist made from Post Rock and Dream Rock. This shoegazy fog is filled with lights and movement but does not reveal much beneath. In the final part, the mist vanishes and the audience wakes up in a vibrant city with 1.7 million inhabitants but no Metro line.
8/10 Mangoes
'Scenes from the Metro' was recorded at HillRiver Studios Belgrade
Line-up:
Milutin Krašević – vocals, synths, samples
Luna Škopelja – vocals
Todor Zivkovic – guitars
Dejan Škopelja – bass
Tom Fedja Franklin – drums
Thomas Craymer – backing vocals
Srdjan Popov – mix and master