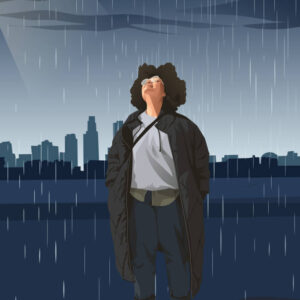 Bryanna Rain – PETRICHOR
Release Date: September 26, 2022
Label: Lavender Leaf
Format: Album | Digital
Duration: 36:58
Genre: Synth Pop / Electronic Pop
Origin: Richmond, VA, USA
"PETRICHOR" is an awesome nostalgic album by Bryanna Rain. It's full of dynamic pop songs, that take one's breath away. Bryanna made a modern and bright album that definitely will resonate with many listeners. It makes you want to dance while listening, this is the merit of Bryanna's talent and excellent production.
Also you can hear talks, with which some songs begin, it relates to many crucial topics like abortion and women's rights. It contrasts with minimal pop sound, that we hear in these songs, and makes a dissonance – your body starts to move, but your brain starts to analyse what these talks are about.
In 'Ducks' we listen to a kind of diary, in which she talks about her trip to Amsterdam: we can hear her laugh, her emotions, and it's just so brave to share your personal life with the audience by writing music. She's a true artist. 'Satellite' is an emotional heartbreaking ballad, composed on a piano, that makes you cry a river.
So, in this album we can see how a beginner step by step becomes a serious musician, it reflects in lyrics, in variety of sound decisions, in production, as well as in performance. And it's a pleasure to catch this moment. Bravo!
Text by Ilya Yclept