Three great new releases – Three short reviews.
If available on Spotify, one song each will also be added to the MangoRotation playlist for 14 days.
Further featured playlists of this post will be listed on the bottom.
This coverage was created via Musosoup #Sustainablecurator – a contribution was made by the artists to help sustain website costs.
Click here and run your own campaign on MusoSoup
Los Sindes – Sonicos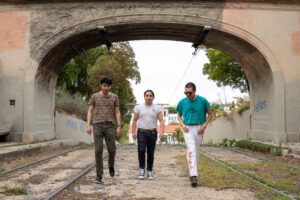 02:49 | Single | 21/09/2022
Digital | EarthTone Studios
Surf Rock / Post Punk
Sacramento, CA, USA
Manu (drums), Rodri (bass) and Zito (guitar) are three young musicians from California's capital Sacramento. Having known each other since High School days, the trio's member have played in different bands before they formed Los Sindes. A shared love for rock music of the 1980s such as Post Punk and New Wave on the one hand, and for Surf Rock and Latin on the other hand makes Los Sindes create thrilling and unique sounds. Currently, the band is successfully working on their reputation by playing gigs in the Bay Area among which the one-hour Cinco de Mayo concert at Old Ironsides is noteworthy. Together with Patrick from EarthTone Studios, Los Sindes have recorded four singles; 'Sonicos' is the second one that was released.
The catchy theme before the verse may remind of a classic, but in its second half the guitar track changes its dirction towards a sunny Post Punk and Surf Rock motif. On dynamic offbeats driven by thrilling rhythms and dominant chorus effects, the vocals slide across the soundscape like clouds above the ocean. Here, the discrepancy between high-tone Surf guitar and Latin Rock beats on the one side, and the warm bass accopanying the half-sung, half-narrated vocals below create a highly exciting sonic atmosphere. Like warm summer rain or a friendly hot season tempest, the catchy chorus marks the short song's climax. The structure intro-verse-chorus-verse-chorus-bridge-chorus-coda may not be super innovative, but the musical style on the other hand is unique. Los Sindes combine subtropical ease and sunshine with melancholic gloom and thereby create a sound full of passion. Imagine Parahelio joining forces with Chencha Berrinches at a surf resort, and you might get a similar sound. Nevertheless, Los Sindes are a band we are hopefully hearing more from in the future.
8/10 Mangoes
Eruption Artistique – ICON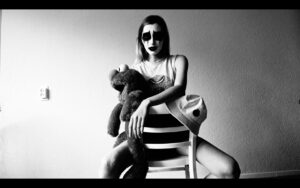 03:56 | Single | 28/09/2022
Digital | Independent
Shoegaze / Art Pop
Rotterdam, Netherlands
If Eruption Artistique's song and music video were reviewed in a gossip magazine, the headline could be something like "Love, Beauty, and other Catastrophies". But before revealing why there is some truth behind this cheesy phrase, let us get to Eruption Artistique. The group from the Netherlands is way more than just a band. Eruption Artistique are an artistic collective constisting of musicians Sara and Bas, film makers Mike, Vinnie,and Jean Paul who is also a photographer, and several actors. Together, the group creates artistic content for all senses by combining Pop Art, social and political criticism, drama, sound, picture, and aesthetics. In February 2022, their song 'Ball & Chain' was featured in the old MangoWave page's Fresh Mango series.
Output by Eruption Artistiqe is always a multisensory experience, and so is their latest release 'ICON'. The sound alone is a thrilling piece of art, as Eruption Artistique let Garage Rock, Post Punk, Psychedelia and Blues clash on a raw and misty Shoegaze surface. From the energetic themes of the verse over the powerful saxophone to the catchy chorus, 'ICON' opens a sonic vortex to dive into. The story told here is set in an environment defined by post modernism, apocalypticism and mysticism: a young female living in this dark and forsaken world shines with beauty so bright, even the ancient deities fall in love with her. And to complete this masterpiece, Eruption Artistique present this tale via a high-class video that reaches from Warhol to Aronofsky – pure art!
10/10 Mangoes
Lucifers Beard – The Guy With A Black Eye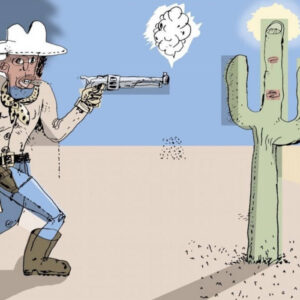 02:18 | Single | 07/10/2022
Digital | Independent
Grunge / Garage Rock
Shrewsbury, England
And last but not least, here is a song by a project whose only member has the same name as a well-known meme and part-time Death Metal musician: Chris Barnes. After the success of his previous single 'Shake on the Floor', Lucifers Beard from Shrewsbury in the West Midlands has recorded another song in his domestic studio. With a little help from Ed Ripley who also mixed and mastered Goat Girl or NOFX, the fine-tuning has been made, and here we are listening to Lucifers Beard's latest release 'The Guy With A Black Eye'. It is a song that has been inspired by a real-life encounter that the English musician had on the street. The original 'Guy With A Black Guy' passed by, carrying his skateboard and looking like he could use some rest. Although he probably wanted to be everywhere else, 'The Guy With A Black Eye' was in the centre of everyone's attention.
In the lyrics, Lucifers Beard tells the fictive story of what 'The Guy With A Black Guy' might have experienced. Where does he come from? What was his life like before? Where does the black come from? And where is he going to? We can only assume, but the lyrics create one possible version of the person who went from a darling to the bad man. In two verses and two massively shaking choruses, the story is told, but although only two minutes long, the song leaves severe traces in the listeners' auditve memory. That is mostly due to the powerfully rolling main riff which may remind of DEVO's masterpiece 'Girl U Want'. Like the wheels of a skateboard, the song rolls forward without remorse and thus makes a perfect workout anthem, and a reminder that you do not want to be 'The Guy With A Black Eye'.
8/10 Mangoes
Featured Playlists
MangoRotation
MangoWave Release Radar
The Mango 100: Cinematic Sounds
The Mango 100: Cooking and Housework
The Mango 100: Garage / Surf
The Mango 100: Indie / Alternative
The Mango 100: Indie Pop / Shoegaze
The Mango 100: Party
The Mango 100: Post Punk / New Wave
The Mango 100: Punk / Hardcore
The Mango 100: Tunes for the Road
The Mango 100: Workout
Sound of the UK: The Mango 100
Sound of the Netherlands: The Mango 100
Sound of the USA: The Mango 100