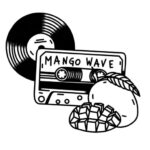 Want to advertise on MangoWave? Send an e-mail to raphael@mangowave-magazine.com
CRIM – Can​ç​ons de Mort
March 10, 2023
Album | Vinyl/CD/Digital
Punk Rock / Street Punk
12 Years of Criminal Punk Rock
A dozen years ago, CRIM were formed in South Catalonia's Tarragona and released their first EP 10 Million Per Veure Una Bona Merda in the same year. Their selftitled debut album was released in 2014, and the sophomore longplayer Blau Sang, Vermell Cel followed only two years later. Another EP (Sense Excuses, 2018) and an album (Pare Nostre Que Esteu a l'Infern, 2018) later, the time was already right for celebrating the tenth anniversary by publishing a compilation with star-studded international cast. And here we are, another two years later, and the Catalan band presents their fourth full-length release Cançons de Mort.
Songs of Death
Marc (drums and backing vocals), Javi (bass and backing vocals), Quim (guitar and backing vocals) and Adri (guitar and vocals) present their songs in their mother language Catalan. The style of their music on the other hand partially reminds of English classics such as Cock Sparrer or Sham 69 combined with the melodic but raw sound of Sedish Punk Rock in the veins of Asta Kask or Ebba Grön. And thus, CRIM provide their audience with singalong choruses, rough vocals, agile riffing and various melodic guitar play.
Happiness is Resistance
With Oi! and Street Punk as two of the main ingredients for their sound, CRIM attatch importance to entertainment. They do not mince words when uttering phrases like Sense tu estic molt bé (Without I am fine) and they are not even thinking about calming down (No Vull Quet Et Calmis). CRIM are not tired and their attitude is to openly address issues but never forget to have fun. Thus, they cannot stand the pretentiousness of the new hippie scene as they express in Estiu de Merda (Summer of Shit) and instead they call for the Revolta dels Somriures (Riot of Smiles).
The sound that CRIM present their messages on is really captivating and thus, their entertaining and activating songs quickly motivate body and mind. Sure, versatility and uniqueness may not be the main contents of Can​ç​ons de Mort, but the quartet provides us with twelve tracks full of joy and motivation.
6/10 Mangoes
Can​ç​ons de Mort was produced by CRIM,
recorded at Cal Pau Recordings by Santi García,
mixed by Santi García at Ultramarinos Costa Brava, and
mastered by Víctor García at Ultramarinos Barcelona.