This coverage was created via Musosoup #Sustainablecurator – a contribution was made by the artists to help sustain website costs.
Click here and run your own campaign on MusoSoup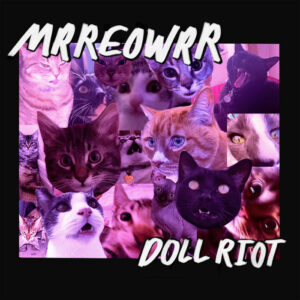 Doll Riot – Mrreowrr
Release Date: October 28, 2022
Label: Independent
Format: Single | Digital
Duration: 04:07
Genre: Grunge / Punk Rock
Origin: Oceanside, CA, USA
Doll Riot's previous single 'Get a Life' was one of the last releases reviewed on the old MangoWave page. In the meantime, MangoWave has moved, and the support for the Californian quartet continues. Doll Riot are a young band who succesfully proves how versatile the Grunge Revival can be, and they are furthermore an independent group that deserves a lot more attention for both, their sound and the message conveyed in it. After the self-titled EP and the unambiguous message to an ex partner 'Get a Life', the latest single release deals with another topic that is unfortunately an everyday issue: misogyny and the stereotypes that come with it. The 19th-century antifeminist movement of True Womanhood wanted female people to follow the ideals submissiveness, piety, purity and domesticity. According to the Cult of Domesticity, everyone else was seen as overly emotional, hysteric, you-name-it. And since these ideals of a patriarch system still exist, voices like those of Doll Riot speaking out against it are still necessary.
High Kicks and Breakdowns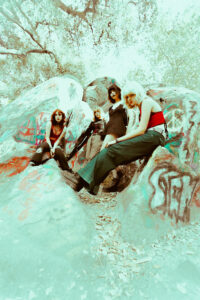 Lillee Gillum (drums), London Kraus (bass), Ella Sauer (guitar), and Elena Olszak (vocals and guitar) do not simply speak against those stereotypes about non-male emotions and sexuality. They scream, shout and yell against it, they spit poison that kills sexists, and they wrap this up in a sonic thunderstorm of Grunge and Punk Rock. While the musical features can be linked to great idols like L7 or The Distillers and Hands Off Gretel, the structure of the song partially reminds of The Linda Lindas' first international hit 'Racist Sexist Boy'.
A sonorous Grunge riff leads into the song, creating thrill and tension as vocalist Elena begins with the first killer line "I am not sorry for your fragile masculinity". With the first scream, the tempo switches to a massive Punk Rock blast, and the song's chorus turns into a tornado. After the second grungy verse, Doll Riot implement a bridge which raises the tension even more, and behind a hazy wall of fuzz and heavy half-time rhythms, and angry tirade against sexist stereotypes paves the way for a short guitar solo and the second chorus which again is the perfect discharge for all the tension built up before.
With 'Mrreowrr' Doll Riot have released their by far most powerful song so far. Content-wise this single is on point, the sound is heavy, fast and thrilling, and Doll Riot have once more proven that they are a band that needs to be heard. 9/10 Mangoes