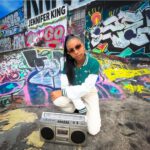 Jennifer King – Go
Release Date: January 20, 2023
Label: Atlantic Bridge Music
Format: Single | Digital
Duration: 03:49
Genre: R'n'B / Pop
Origin: Newton-le-Willows, England
God is a woman. Woman is King. And that king is Jennifer.
Jennifer King is an emerging UK artist who has recently unleashed her talents upon the world. She relies on the original method of sincere Pop R'n'B pioneered by the likes of Madonna and Mariah Carey – their last decade era – with a pinch of modern sound production.
On every level "Go" is another input in the revival of 2000's MTV Pop scene. Appealing to her fellow contemporaries, Jennifer openly and proudly demonstrates drawing inspiration from her predecessors, such as Alicia Keys and Doja Cat. Connecting the past and the present influences, "Go" gives way to an open hearted youth hymn built on the backbone on funky rhythm (think Bruno Mars reinventing SZA) and double tracked vocal lines.
The lyrics are dedicated to being present and taking reality on its own terms, without a need to rely on dreams or scheming a trapdoor exit – in the favor of being true to yourself. And there go-go-goes the fantastic earworm of a chorus. Overall the way "Go" is tailored demonstrates an impressive production and songwriting, balancing between the light clear mix and uplifting message.
The king is here – and it's Jennifer King. Bow.
Text by Dmitriy Churilov