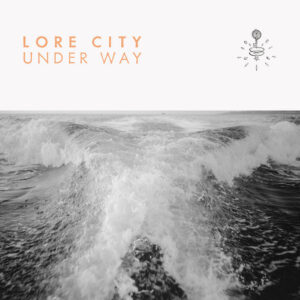 Lore City – Under Way
Release Date: October 06, 2022
Label: Lore City Music
Format: EP | 7" Vinyl/Digital
Duration: 11:16 | 2 Tracks
Genre: Post Rock / Psychedelic Rock
Origin: Portland, OR, USA
Being One – Becoming Oneself
Lore City is a duo that has been formed in the year 2011 and consists of married couple Laura Mariposa Williams (vocals, guitar, keyboards) and Eric Angelo Bessel (guitar, keyboard, percussions). In 2020, the two musicians established Lore City Music and have since then released the two albums "Alchemical Task" and "Participation Mystique". The latter got a review on the old MangoWave page – click here to read.
After the sophomore release was published, Lore City found themselves in another deep creative phase. Working on the two songs 'Animate' and 'Very Body', the Oregon-based artists felt like being about to create a new longplayer, but it turned out to be different. Instead, the two songs stand alone, each one for itself on a different side of a 7 inch vinyl record. Yet, there is coherence as a closer look into the single will reveal.
Clear Sight amidst the Mist
The A-Side 'Animate' is a six-minute exploration of self and other as viewed from beneath an awning that protects from pouring rain. As the water falling from the skies clears the mist around, the protagonist of this song feels hazy insecurity be washed away and thus finds new belief and confidence. The definition of the self and the discovery of the identity go alongside with the perception of a collective mind. Being oneself and becoming one goes from "Who are we?" to "Not you and not me" to "Everybody" and finds its final form in "Very Body" – the title of the B-Side of "Under Way".
This sonic story is told via a deeply atmospheric and coastally frosty Folk tune. Psychedelic Post Rock and Dream Rock dominate this soundscape in which soft piano leads shine through the fog like distant lighthouses. Thick and yet heavy the synth sounds move through the freezing air like wafts of mist. Amidst this impressing musical environment, Laura Mariposa Williams' ethereal vocals enchant the atmosphere of this thrilling tune.
Embrace the Void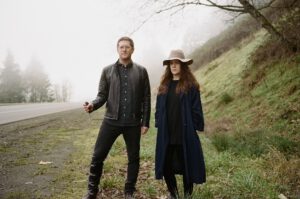 On the B-Side 'Very Body', the themes of the A-Side continue. Yet, Lore City invite their listeners on a journey way deeper into the mist on this five-minute track. The vocals have stopped now and so have the sonic lights at the soundscape's horizon. There is no rain, no uncertain thought, no doubt anymore. Instead, this heavy Drone and Ambient track is the logical consequence of the Psychedelic Post Rock A-Side: a confident walk into the void.
The dreamy Dance from Melancholy to Freedom
Lore City's "Under Way" is a powerfully told tale of self-recognition, awareness, and becoming one with one's environment. The A-Side 'Animate' is a masterful and thrilling alloy made from Post Rock, Folk, Post Punk, Gothic Rock, Dream Pop, and Psychedelic Rock. On the B-Side, the duo from Portland, Oregon enters a meditational void of Ambient, Post Rock and Drone. Although only less then twelve minutes long, this EP is a great salutogenetic release.
8/10 Mangoes
Featured Playlists
MangoRotation
MangoWave Release Radar
The Mango 100: Ambient / Drone
The Mango 100: Cinematic Sounds
The Mango 100: Dream Pop / Synth Pop
The Mango 100: Goth / Industrial
The Mango 100: Kraut / Psychedelic / Space
The Mango 100: Meditation / Work / Study
The Mango 100: Post Punk / New Wave
The Mango 100: Post Rock / Post Metal
Sound of the USA: The Mango 100