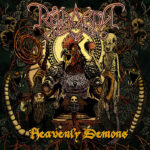 Rådarna – Heavenly Demons
Release Date: September 17, 2022
Label: Independent
Format: EP | Digital
Duration: 13:17 | 3 Tracks
Genre: Folk Metal / Troll Metal
Origin: Sweden
Today we'd be highlighting a mighty participant of the humorous Folk Metal olympics – enter Rådarna ("counselors" in Swedish), an international septet with their newest EP "Heavenly Demons". And in order to sit through it whole you are going to need massive amounts of fire water or dangling old school nads.
Once upon a time, a couple of boys from the deep underground (probably trolls) from Argentina, Venezuela, Portugal and Sweden met once and decided that the world today clearly lacks comic metal à la Finntroll (or, in fact, any other humppa band). And they got down to business on a grand scale, immediately releasing a full-length album – in 2021, "The Fomorian Horde" saw the light of day. And it immediately identified the main creative vector of the band: straightforward metal with clean and unclean vocals, choral choruses, abundance of pipes, violins, accordions and piquant anecdotes.
For anyone who thinks he was born at the wrong time, I have good news for you. With the help of Rådarna, you can feel that you were born in the wrong fantasy universe. The group is inspired by fairy tales, myths and wider topics of angels and demons. Lyrically, it's all processed through the prism of epic stupidity, like if GWAR performed Manowar songs with a serious face.
At "Heavenly Demons", the act is strengthening in its style. On the cover, the listener is met by a trio of counselors (probably) – the chief rooster, a puny bearded man and a dwarf, of course. The first track is a "ballad", it is dedicated to the mythical adventures of the protagonist who is extremely shitfaced. Citing the text: "Being me really sucks!". The second number 'Heavenly Demons' is a lengthy Heavy/Folk Metal song with a strong influence of DIO, Maiden and the likes of it. 'Ballybog Boogie' is the gem of Rådarna's creation, it consists of a jumble of riffs and styles to embody the goals of conservative comicality.
In terms of music, you always get a version of orthodox metal for special kids, where hooks are replaced by simplicity, hit quality – with easier digestion, and wit – with jokes about beer and tits.
15 minutes of "Heavenly Demons" will take you by the hand and guide you through every corner of epic Humppa Metal, so you'd better relax and try to enjoy it.
Text by Dmitriy Churilov
Featured Playlists
MangoRotation
MangoWave Release Radar
The Mango 100: Folk Metal
The Mango 100: Party
Sound of Sweden: The Mango 100