This coverage was created via Musosoup #Sustainablecurator – a contribution was made by the artists to help sustain website costs.
Click here and run your own campaign on MusoSoup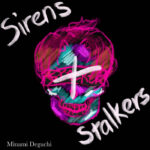 Minai Deguchi – Sirens and Stalkers
Release Date: November 25, 2022
Label: Eizou Records
Format: Album | Digital
Duration: 26:26 | 9 tracks
Genre: Pop Punk / Emocore
Origin: Warrnambool, Australia
The Song of the Sirens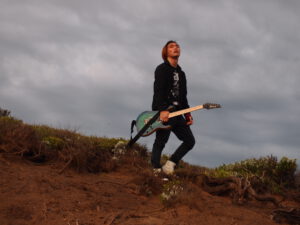 Victoria-based solo artist Minami Deguchi has released his first longplayer "Sirens and Stalkers" in late 2022. Although rather short in playtime, the nine-track release is rich in versatility when it comes to different styles, perspectives and moods. The album is a musical reflection of the artist's coming of age, and it hence deals with the later teenage years of the musician from Warrnambool. Minami Deguchi therefore tells the listeners of the Sirens – influence and distraction that chased and tried to manipulate the young adolescent. And once they have lulled you, those Sirens become one's obsession, thus oneself becomes sort of a stalker.
The Stalker that freed himself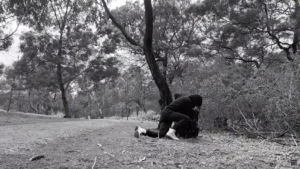 Now, one could run over the remaining review superficially saying, it was a combination of Pop Punk and Emotional Hardcore, and that it sounds pretty cool. But "Sirens and Stalkers" is an album way too versatile for such shallowness.
The album is opened by a sample from the news about a local teenager who was found dead near the lake. The sad melody fades out and leaves space for the dynamic Punk Rock song 'Controlled'. The urge to break out of this state of being controlled is displayed by a powerful moshpit and sick Metalcore growls. Next up, the empowering Emocore ballad 'Last Night' featuring guest vocalist Malin Bud Atkins has the potential to become a great youth anthem. The intensity of the Emo-element finds its climax in the melancholic song 'Please me' that features guest vocalist Jemma Killen.
After this emotional highlight, the deepest song of the album follows. 'All these Lies' is a gloomy representation of realization that things need to change. Here, Minami Deguchi proves that besides producing dynamic, loud and jolting music, he is no stranger to a heart-breaking piano ballad. Having gathered new energy, it becomes time to stand up and fight, and thus with 'Hold your Apologies', another powerfully empowering melodic Hardcore tune and the Skate Punk banger 'Stalker' are up next. With 'Romeo killed Juliet' another calm and melancholic is the seonc-but-last track. The acoustic Emocore track fades out and then lets 'Screaming Sirens (Her Voice II) close the album. Here, it all comes together: melody, melancholia, harsh riffs, movement, tears and empowerment.
Love and Fear
And thus, the final track is a perfect wrap-up of "Sirens and Stalkers". It is an album that honestly displays the pressure and the circumstances that many young people are confronted with. Amidst this weird cocktail of emotions, love is only a nanometre away from fear, and everything is highly explosive.
7/10 Mangoes