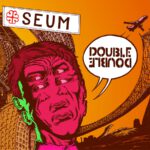 Seum – Double Double
Release Date: February 01, 2023
Label: Independent
Format: Album | Vinyl/CD/Digital
Duration: 32:46 | 8 tracks
Genre: Doom'n'Bass / Sludge
Origin: Montreal, Québec, Canada
In Defiance of the Curse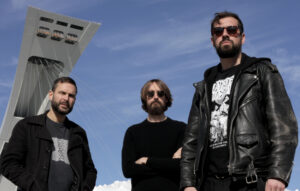 It is an unwritten law that an artist's second full-length release gets scrutinised particularly closely. In the world of music critics, snooty fans, grudging musicians in other bands and other people who take themselves too seriously, the sophomore release is the crucial one. It is the second album curse that everyone is expecting to come true – superstitious or not. And since Québécois Doom'n'Bass trio Seum's debut album "Winterized" was a big success, the vultures are lurking. Montreal's Fred (drums), Piotr (bass) and Gaspard (vocals) respond with a haf-hour sonic middle finger to these grudges. Nevermind the Second Album Curse, here is "Double Double"!
Spitting Venom – Tackling Frustration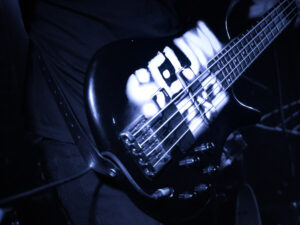 Seum is Arabic for Venom, and in colloquial French it is a term for Frustration or Disappointment. The three members have all played with bands from France before they formed Seum in the Canadian province of Québec. Drummer Fred was with Black Metal band Uluun, vocalist Gaspard also sang for Parisian Sludge band Lord Humungus, and bass player Piotr was part of Stoner Doom outfit Mlah!
Since they joined forces, the three musicians use minimal effort to gain maximum success when it comes to creating sludgy, doomy, smoking hot Stoner Metal sounds. For this endeavour, a guitar is obsolete, and therefore Seum do not only produce Sludge and Stoner Metal but Doom'n'Bass.
When Life offers you Coffee…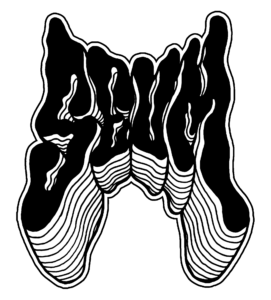 … you ask for "Double Double". And no, this is no reference to Austrian Death Machine's second album "Double Brutal", but the name of a Canadian coffee speciality. The double double is a strong brew that comes with two spoons of sugar and two creams. This hot beverage will keep you awake and nourished for the day.
And the name is a great fit for the album since Seum present a bold, powerful and merciless Sludge album. Highspeed attacks as in 'Dollarama' are featured as well as the Sludge Punk anthem 'Snow Bird', the eschatologic sound of 'Dog Days', or the heavy steam roller 'Razorblade Window'. On Seum's "Double Double", there is a bit of everything: violence, apocalypse, desperation, blind anger, and humour.
8/10 Mangoes
All images by courtesy of Seum.