This coverage was created via Musosoup #Sustainablecurator – a contribution was made by the artists to help sustain website costs.
Click here and run your own campaign on MusoSoup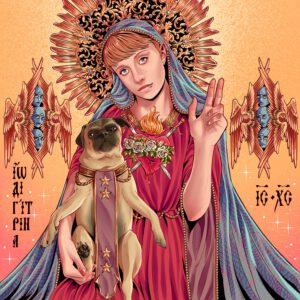 Mishkin Fitzgerald & The Chemical Perils – Grace's Cradle
Release Date: February 10, 2023
Label: Not Saints
Format: Album | Digital
Duration: 30:26 | 9 tracks
Genre: Klezmer | Gypsy Punk | Alternative Rock
Origin: Brighton, England
On the Quest for the Roots
Brighton-based musician Mishkin Fitzgerald and her new band The Chemical Perils have recently been introduced on MangoWave when their single Legs Broken was reviewed here. You can find the post at the bottom of this one. But let us first focus on the album on hand, the nine-track release Grace's Cradle which features the previously reviewed song alongside a colourful potpourri of sounds that reach from Israel over the Balkan peninsula to the British Isles, and from cuddly dances to emotional outbursts and escalations of joy.
For leader Mishkin Fitzgerald, Grace's Cradle is a very personal album since it describes the artist's quest for her self and her own roots after she abandoned her Christian upbringing. As life is often defined by ups and downs, the episode that is depicted here is a climactic high so close to the sun, it will turn into a breakneck rollercoaster ride downwards any moment. Cynically, self-reflected, yet sober and conscious, Mishkin Fitzgerald & The Chemical Perils set this absolute high point to music.
Through the Magnifying Glass
Now, life is not a mathematical formula, and thus Grace's Cradle is way more than just the tip of an inverted parabola. Zooming in on this curve, one will find plenty of tiny ups and downs which together compose the bigger picture. Therefore, the album is not an all-time high consisting of one blasting dancefloor destroyer after another. Instead, Grace's Cradle is a legit reflection of how life really is: even the most beautiful days can be interrupted by short rain showers.
Nevertheless, Mishkin Fitzgerald & The Chemical Perils know how to implement the overall image of happiness which makes the listeners comprehend that minor setbacks do not affect the main mood. Amidst this overwhelming storm of serotonine, the thought of worse times coming may shine through here and therebut immediately gets drowned out by this immense waterfall of joy.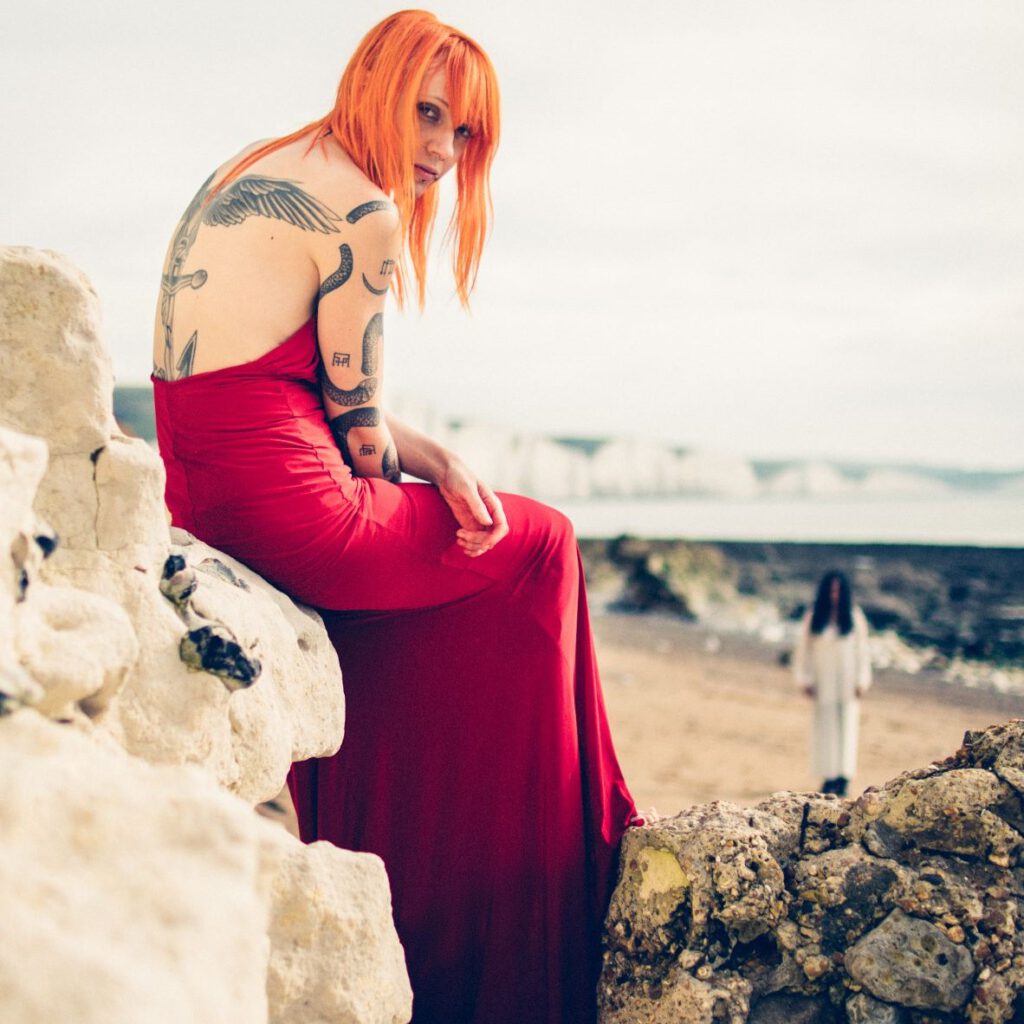 Dancing between Love and Hate
Grace's Cradle begins with the massive Balkan brass party stomper Pink Elephants. A sound that reminds of the joy that is spread at Guča Festival is led forward by an unstoppable tuba which perfectly depicts the pink elephants parading. Next up is the Klezmer and Gypsy Punk anthem Legs Broken on which Mishkin Fitzgerald sarcastically deals with critics – read more about this song in the single review. After a heavyweight and an even more massive confidence boost, the gentle Waltz Lou's Song is the first step into the more loveful spheres of Grace's Cradle. Here, band leader Mishkin Fitzgerald demonstrates her skills as a classic songwriter, pianist and vocalist. Similar to Nephila's Belladonna, this smooth tune fits between two way heavier songs without problem.
The thrilling duet Blame dives into dark Folk Rock spheres which can be located somewhere between Nick Cave and Crazy Arm but spice up this gloomy sound with the electrifying sounds of the strings. Although Blame may appear like an early retardation of the climax that is described on Grace's Cradle, it quickly turns into a confident manifestation. But since one cannot always be strong in this life alone, the time is right for a devotional love song. I only get what you give me can sound a little cheesy when played isolatedly, but within the cohesive structure of this album, it fits perfectly.
After the Party comes the Hangover
The wild carousel of emotions and sounds continues its joyride and thus with Bleat another Klezmer moshpit begins. After this two-minute instrumental party, Losing Susan gently caresses the listeners' senses like the mid-day sun after a night that was way too long. A little ponderous but deeply cinematic the next Klezmer piece Himaar Miyet is an entertaining little tale featuring a curious donkey. And finally the title track, the longest track of the album, conveys the feeling of waking up from a long sleep or becoming sober after a long rush. The quest for the album's protagonist's own identity has reached a crucial step here as Grace's Cradle is a deep reflection on religious values, personal desires, and the search for one's place in this world.
A Coherent and Thrilling Story
Grace's Cradle can be regarded and rated in two major ways. On the one hand, there is the music, the versatile and exciting mix of Klezmer, Punk, Alternative Rock, Folk and pure passion. Crazy arcs of suspense and intelligent twists coin this overwhelming demonstration of instrumental and vocal sounds. On the other hand, there is the literary level, the comprehensible and yet thrilling story-line of a protagonist looking for their own identity between party, love, demarcation and passion. The open ending leaves room for imagination and reflection, just like a good book.
Either way, the rating of this album is clear since it is a hot candidate for the album of the year on MangoWave.
10/10 Mangoes
All songs were written by Mishkin Fitzgerald except Pink Elephants (Frank Churchill and Oliver Wallace)
Lyrics by Mishkin Fitzgerald, Simon Field & Jonny Peril
Produced by Garry Mitchell at The Nest Studios, Brighton
Pianos, accordion, vocals – Mishkin Fitzgerald
Double Bass, guitars, brass – Garry Mitchell
Vocals – Jonny Peril
Violin, cello – Hana Piranha
Drums – Anna Mylee
Saxophones, Clarinets, Flutes – Jacy de Sousa
Trombone, tuba – Sian Buss
Trumpets – Sachin Bhopal
Voice excerpts – Ketamine Ryan
All pictures by courtesy of Mishkin Fitzgerald & The Chemical Perils
Cover artwork by Fausto Giuresco