Want to advertise on MangoWave?
Send an e-mail to raphael@mangowave-magazine.com
---
Noctomb – Noctomb
September 22, 2023
Independent
Album | Digital
39:11 | 7 tracks
Blackened Sludge
Blackened Doom Metal
Raleigh, NC
USA
Further Down the Acheron
Nine years ago, North Carolina's trio Noctomb released their first album Obulus for Charon. The album track Beethoven's Butcher was featured on the YouTube channel of 666MrDoom which helped the band from Raleigh to receive more attention. Yet, their frosty and infernal sounds have remained a hidden gem that is mostly famous among real lovers of underground music. Now, almost a decade after the trio paid their toll to the ferryman of the underworld, they are back with another longplayer. After years of touring, Noctomb burst in with an album that shall be a powerful self-presentation, and thus it is self-titled.
Eschaton – Inside and Outside
If Ned Flanders' shop The Leftorium had a section for misanthropic ideas, mystic literature, and music instruments, the three members of Noctomb might have met there. Anyways, the left-handed trio concerns a two-fold narrative of collapsing worlds and endless darkness on their self-titled longplayer. The first of these two dimensions is pretty obvious: it is the timeless, thrilling and fascinating narrative of the end of the world. Noctomb refer to Hindu mythology in their song Kali Yuga which stands for an age of conflict and sin. Besides mythological references, Noctomb address further chasms of human behaviour such as Manipulation.
Inside this doomed world, another dimension is part of the narrative of Noctomb. It is the self, the soul, the life of sentient beings which is being crushed under the weight of the darkness around. Thus, an ambivalence is being created: creatures become aggressive and violent on the outside while yearning for peace and comfort on the inside.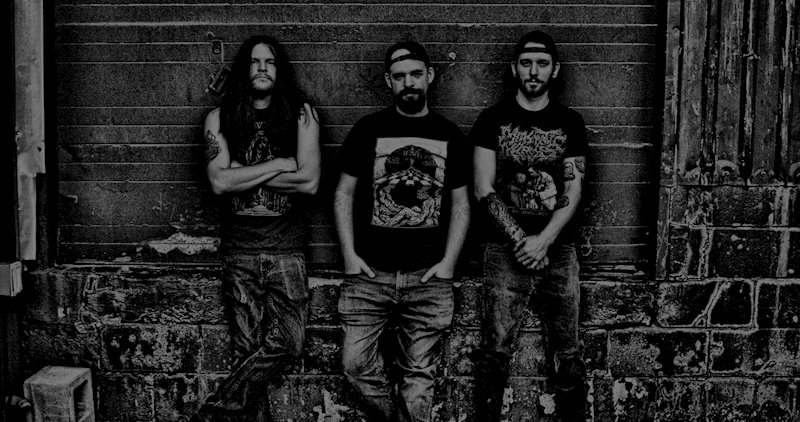 Blackened Patchwork
Music-wise, Noctomb also consists of two main dimensions. First of all, there is Black Metal – a lot of it. Noctomb present an honourful nod to the second wave of European Black Metal. One can find many influences from early-day Darkthrone, Bathory or Marduk in this raw sound. Nevertheless, this is no pure Raw Black Metal rehash. Instead, Noctomb add a complementary sonic dimension to the soundscape on their self-titled album. Driven by massive Fuzz and atmospheric melancholy, Doom and Sludge Metal colour the background of this frosty sonic image in the colours of a burning planet.
Not meant for Mass Production
Between the worlds, the Sludge and Doom sound on the one hand, and the frostbitten Black Metal blasts on the other, Noctomb create a massive tempest of harsh aggression and painful noises. They scream and bluster against the negativity that is omnipresent in our world. Noctomb is nevertheless an album that is not meant for the big stages and stadiums, this is legit underground music. Lovers of second-wave Black Metal and friends of harsh Doom Metal sound will finds tons of joy in this release. For many others, it will probably be hard to attain due to its compromiseless attitude. Noctomb are a pure and raw gem for those who want to find them.
5/10 Mangoes
Credits
Guitar and vocals – Nate Stokes
Bass – Matt Couchon
Drums – Patrick Cotter
Promo material by courtesy of C Squared