This coverage was created via Musosoup #Sustainablecurator – a contribution was made by the artists to help sustain website costs.
Click here and run your own campaign on MusoSoup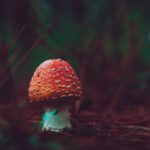 Various Artists – Amanita Muscaria 1
Release Date: December 09, 2022
Label: Maquiavel
Format: Compilation | Digital
Duration: 109:45
Genre: Ambient / Drone / Soundscapes
Origin: Lisbon, Portugal (Maquiavel)
In the Beginning there was…
… a playlist. The year 2020 was almost over and Lisbon's Marco Guerra began creating a playlist called "Amanita Muscaria". Behind the name of the muscimol mushroom that is not only famous amongst Smurfs, Italian plumbers or vikings, the Portuguese label manager collected psychedelic and ambient soundscapes. The playlist grew rapidly and it became an insider tip among fans of Ambient, Drone and meditative electronic music. In 2022, Maquiavel owner Marco Guerra played this list on Guadalajara's Internet Public Radio, and at that time at the latest it became obvious that "Amanita Muscaria" has become much more than just a playlist. Marco Guerra has thus released the sixteen-track compilation "Amanita Muscaria 1" on his own label. The one-hundred-and-ten minute collection enables deep meditation and a journey between the fungal lamellae.
Sixteen Pieces of Hypnotizing Soundscapes – Amanita Muscaria 1
Amphibian neighbours have the characteristic of giving loud concertos at night time. Floresta Oblíqua from Portuguese capital Lisbon has created a seven-minute ambient track that honours these nocturnal sessions. Darkness and humidity are integral components of this soundscape.
Between minimalist synth sounds on the one hand and imposant cinematic tunes on the other, RAUSTE from Swedish capital Stockholm invites the listeners to a clash of extremes. What begins as a loose scaffolding made from feedback and single notes becomes an opulent Ambient Folk tune. RAUSTE's contribution to the compilation is as cool as the North.
Madrid's Concrete Fantasies merge nature and modernism within their sounds. Field recordings that tell of wind and air clash with harsh Industial sounds. Amidst this carambolage of forces, something new is born.
7 emilio portal – a compendium of hopes, dreams & grooves
Canadian emilio portal is famous for his percussion works, and this twenty-two-minute track is a fantastic example for that. The award-winning sound engineer leads his listeners through an enchanted forest full of colourful sounds. Minimalist and yet massive, this sonic compendium is full of imagery and dynamics.
2 Slow Draw – You are my Legs
When Texan artist Slow Draw produces sounds, the features of hum and buzz are inevitable. A bit over five-and-half minutes, the track 'You are my Legs' jeumps back and forth between sanity and madness. Voice samples, a Jazz piano, cinematic effects, and an omnipresent drone are the entrance ticket to the head cinema.
4 Cederick Knox – Valium Picnic
A sonic dream is provided by Brighton's Cederick Knox. The track 'Valium Picnic' could not fit its title better since it is a deeply mesmerizing and psychedelic piece of art that tastes like fresh fruit, sunshine, and strong sedatives. Layer over layer of hallucinogetic sounds fly across an endless sky like purple clouds.
6 The Vet's Fetching – The Clouds bled Legs and walked away
Right after the compilation's shortest track, this six-and-a-half minutes sonic trip may remind some listeners of hallucinogetic substances. Driven by scratchy glitches, the psychedelic Ambient sound creates tension and relaxation simultaneously. One may thus either follow the clouds' walking away or just wave them goodbye.
With Clothilde another artist from Lisbon is featured on this compilation. 'Garble' is nine-minute Drone from the darker side of the musical spectre. Waves becomes harsh noises as they pair with glitches and steady but discomforting sounds – a brilliantly realised sonic nightmare.
LA's Devin Sarno has produced Bass, Drone and Ambient sounds for over three decades. The artists's contribution to "Amanita Muscaria" is saunters across a triumphant background sound with great side steps. As the track's intensity increases, so does its reference to a healthy and healing exhale.
Under the artist name Screaming Bones, the artist from the Odenwald region creates distorted Fuzz and Stoner Rock. With his side project Bones:Dreaming, the musician from Germany produces acidic and mediative Ambient. 'Desert Sun' is a ong-track that perfectly sets heat, flickering lights and endlessness to score.
Kinbotte from Coimbra, Portugal bring back the sunlight with their track 'Terra'. Only four minutes long but yet impressive, this orbital journey follows our home planet's rotation around the sun. Here, Dark Ambient meets House and forms a gorgeously positive hybrid.
With Tropic Noir another artist from Portugal is featured on "Amanita Muscaria". His five-minute glitchy piece 'Espelho Pt. 2' (Portuguese: Mirror Pt. 2) feels like diving behind the looking glass or into the depth of intransparent liquid. An arc of suspense with unexpected twists emphasizes this ambivalence between calm and incertainty.
Distant Fires Burning from Belgium combine the massive presence of a bass guitar with the featherweight of cinematic Drones. And like that, the impressive track 'Dark Strndr' mostly consists of calm and deep sounds. Even though not all of the sound waves may touch the inner ear, they reach the soul.
12 CITIZEN:KANE – Funeral provider
Besides ROSE:BUD and Tó Mauzão, CITIZEN:KANE is one of the stage names by Maquiavel manager Marco Guerra. His track 'Funeral Provider' adds some serious horror romanticism and thrill to the compilation. Between organ, drones and Dark Ambient, a triumphant horror film atmosphere comes to action.
Exeter's Nonagon Stare presents a track that really comes up to its name. The four-minute tune 'Anchored' leaves the impression of being settled, of being the Royal of the Wild Stallions, of being 'Anchored'. Here's some sonic fuel for your confidence tanks.
16 Tewksbury – We refuse to be worn out
And last but not least, Canadian Tewksbury closes the compilation with a cinematic and strengthening tune. Between loops and drones, Tewksbury manages to let Neo Classical sounds define the trope of 'We refuse to be worn out'. The track is thus a great fit for the end of "the compilation "Amanita Muscaria 1".
The compilation's name speaks volumes, and thus there shall be no doubt that further parts of "Amanita Muscaria" are coming. Everyone who knows how to enjoy a deep séance and who is not afraid of darker themes, will be very happy about this.
7/10 Mangoes