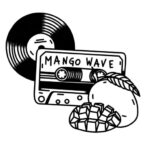 Another little Journey through Time
Want to advertise on MangoWave?
Send an e-mail to raphael@mangowave-magazine.com
---
When David Bowie saved Punk Rock
The story of American Hard Rock band The Stooges, formed in Ann Arbor, Michigan in 1967 could have been a short one. After having released two albums, three out of four members developed a serious addiction to heroine and then disbanded. But it occured that in the year of the band's breakup, 1971, James Newell Osterberg (better known as Iggy Pop) met David Bowie in Kansas City. Apparently, it was David Bowie who assisted Iggy fighting the addiction, and two years later, it was the same David Bowie who co-produced one of the most important pioneering works for Punk Rock, Alternative Rock, Grunge, Heavy Metal, …
Psychedelic Iggy
Within five years, the band has changed their name from The Psychedelic Stooges to The Stooges and then to Iggy and the Stooges. Half a century we know that the name Iggy Pop has risen to the high heavens of popular music culture while The Stooges are less famous outside of the Rock'n'Roll universe. Whether the cult of personality around the vocalist was necessary for the big success of Raw Power is doubtful. On the other hand, it did the band's success no harm.
The Rules of Punk Rock are…
… to break the rules. Raw Power may not fit in contemporary definitions of Punk Rock. Instead, today, one might rather speak of Alternative Rock, Garage Rock, Noise Rock, and maybe of Proto Punk. Compared to other band of the same era, Iggy and the Stooges were the untamed ones. Their sound was much rougher than the one by the New York Dolls or the Velvet Underground for example. And compared to the Dead Boys or the Bad Brains, their style was much more savage, erratic and coined by unexpected outbursts. Raw Power is a piece of Punk Rock history. It is furthermore a document of a wild time defined by insecurity, fear and hope for a better future.