This coverage was created via Musosoup #Sustainablecurator – a contribution was made by the artists to help sustain website costs. Click here and run your own campaign on MusoSoup
---
9 o'clock nasty & I am the Unicorn Head – Dude, your Mom's a Squid?
June 16, 2023
Independent
Single | Digital
03:49
Trip Hop / Psychedelic Pop
Leicester, England
Saint Austell, England
Between Yin and Yang
Leicester's 9 o'clock nasty and I am the Unicorn Head from Saint Austell have become regulars on MangoWave. Spearheading the New Indie movement, the East Midland trio and the Cornish duo are succesfully breathing life into the independent music scene. These fresh winds are here to blow away farty old-fashioned cock rock and corporate music reek. The New Indie movement has a vision, and that vision is to overthrow global capitalism and patriarchy. But no one can revolt and fight 24/7. We all need a rest from time to time, and we need to have fun every now and then. This song is about one of those off-days from the revolution. It is about having some leisure time, having an epiphany, and having to throw up afterwards.
Pizza Speciale
Was there something on the pizza you just ate, did someone spike your drink, is it all a dream, or did God really reveal themselves to you? The answers may never be found, and whether your mother has been a squid all along might remain unclear. Trying to analyse the meanings and offsprings of such psychedelic experiences can lead to an interruption of the beautiful trip, and it can also lead to panic attacks or at least to nausea. Instead, best advice is to lean back and enjoy the ride.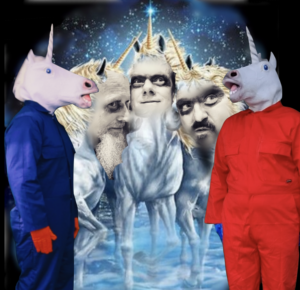 Dude, your Mom's a Squid? is built on an atmospheric Dreamgaze foundation that reaches through the song like a thick mist. Funky guitar licks that remind of 9 o'clock nasty's King Thing form a spinning kaleidoscope amidst this sonic mist. While the listeners are constantly being dragged towards this psychedelic vortex' centre, vocals pop up from different edges of the room. If you have ever passed out during a party, this amazing track will awake memories. Dude, your Mom's a Squid? is different to most releases by I am the Unicorn Head or 9 o'clock nasty. It is nevertheless a fantastic Nastycorns track, and it proves the various potential of New Indie.
7/10 Mangoes
All pictures by courtesy of 9 o'clock nasty and I am the Unicorn Head