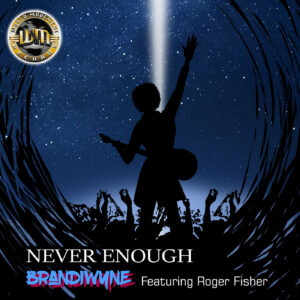 BradiWyne – Never enough (feat. Roger Fisher)
Release Date: October 17, 2022
Label: World Movement Records
Format: Single | Digital
Duration: 03:41
Genre: Pop Rock
Origin: Ohio, USA
What is the first thing that comes to your mind when you read BrandiWyne?
Yes, thought of that too, and no, it's not a pornstar name. Brandi Huang is here to conquer not just sonic landscapes, but also to take back the tradition of pop artists naming from the adult industry.
Am aspiring singer from Ohio, Brandi made a long way to the point where she is now, participating in the bands like The Scrapes and The Girls before coming up with BrandiWyne in 2001. Which is probably the most zeitgeist name possible. While manifesting interest for all musical genres, BrandiWyne nonetheless operates in the spheres of pure Pop – but if the presence of overdriven guitar is enough for you to hop on rock and roll bandwagon then suit yourself and feel free to headbang.
We didn't see too much productivity from the singer in the past decade which might be the sign of choosing quality over quantity. But the covid-related lockdown gave Brandi a creative boost placing her in the studio rehearsing once again.
It's hard to define the line between post-irony and sincere dedication to naive vanilla pop here, but that should not scare a loyal fan. Self described as P!nk+Evanescence-vibe, BrandiWyne is pretty much everything, inheriting the quality and values from that era and scene. As edgy as Katy Perry, as vocal as Ashlee Simpson, as heavy as Carly Simon, Brandi takes a more modern approach with releasing singles over albums and explaining it with shortening attention span.
At the same time, for her newest offering "Never Enough" she opted out to collaborate with Roger Fisher, a rock and roll hall of fame inductee who is known for his activity in the prog rock and AOR scene. Still, his presence in barely noticeable in the new track which is a 100% Pop Rock anthem with an "America Fuck Yeah" solo.
There is place and time for everything, and for "Never Enough" it's Spring Break on MTV. We might just witness the birth of another supernova that is capable of leading the nostalgia train right to the top of pop charts.
Text by Dmitriy Churilov