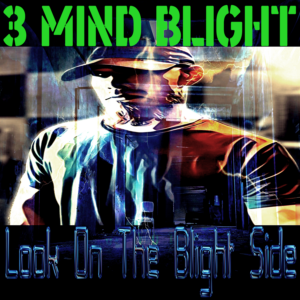 3Mind Blight – Look in the Blight Side
Release Date: November 11, 2022
Label: Independent
Format: Album | Digital
Duration: 42:33 | 13 tracks
Genre: Alternative Metal / Modern Metal
Origin: Tulsa, OK, USA
I see the blight – conservative alternative metal values shine once again two decades later since their peak in 2000s.
3Mind Blight is the brainchild of Mike Boucher, an Oklahoma-based producer. The project kicked off in 2018 and demonstrates continual shaping of style, form and mythos. Mike is not afraid to put his creation in the territory of nu metal, which is fairly true. On "Look on the Blight Side" you can definitely hear what music brought up 3Mind Blight – and that's a piece from every subgenre of millenia alternative metal.
The most notable part must be the vocals, which are definitely heavy influenced by Phil Anselmo, but this time it's more of a compliment. It sounds confident, deep and constant, with all the southern charisma and range.
The same is also true about the music – it's a half of NOLA melodism and songwriting, mixed with smaller parts of groove metal, nu metal and occasional industrial exercises. Think Down engaging with Lamb of God, 69 Eyes going out with Coal Chamber, all multiplied by modern lower guitar tuning and production values.
3Mind Blight does not revolutionise the scene, but does a good job where it fits. I'd say the most interesting (and potential parts) are hidden in those acoustic passages with clean singing – 'Silenced by Sound' itself is worthy of Housecore Records signing right next to En Minor.
"Look on the blight side" – it is a captivating listen and skill definitely worth your time.
Text by Dmitriy Churilov