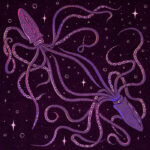 Deckard Croix – Noncommunication of the Cephalods
Release Date: January 15, 2021
Label: Tachisme Records
Format: EP | Digital
Duration: 27:19 | 3 tracks
Genre: Dark Ambient / Drone
Origin: Columbus, OH, USA
The purveyor of sound, the overlord of oscillation, the drone of drones – that's how I can entitle Deckard Croix. Electronics enthusiast, he operates in a dimension beyond any actual music and plows the underneath of ocean bed.
What comes to your mind when you hear "Cephalopods"? And "Noncommunication"? And that's exactly what this release sounds like. Deckard's fascination with deep sea lifeforms expands far beyond nautical observations. Yes, you guessed it, I mean good old lovecraftian horror and its god-defying abominations (the author actually provided soundtrack to the audiobook of horror maestro).
"Noncommunication of the Cephalopods" is a three-piece immersive play, a descent into darkness and madness, but also submersion into transcendence and oneness. Deckard manifests his love for such pioneers of synths as Schulze, Gottsching and Eno, and it shows in his choice of modest sound design – the keyboard sound in the opening 'Quintessence' is intentionally crusty and nostalgic, borderline lo-fi demo quality but placing it in the context of surrounding soundscapes changes its perception and explains implementation. Note that Quintessence is the closest thing to structured music on this release, representing the isolationist atmosphere in the vein of Vangelis.
'Permeance' introduces the listener to the darker side of "Noncommunication…". Slowly but steady the mix decays into screeching repellent drone, that culminates in an endless high pitched note. Later it transforms into a messy but elegant pool of mid and low frequency. This track shows Deckard's love for lo-fi aesthetics, still kept in natural balance of track development.
'Diffusion' picks up right where 'Permeance' left and with no foreplay bombards you with hardcore drones and walls of sound. It's absolutely out of any rational categories of listening and appeals more to hypnotic effects and tickling the subconscious. The longest track on this record takes you on a tough ride, leaving a surprising feeling of relief as it ends. It is fair to say that listening to drone is a practice of discipline and dissociation on many levels – and 'Diffusion' does that, enabling the process of dissolving in the endless deepest wells of sonic mud.
As a whole, "Noncommunication of the Cephalopods" is a real treat for enjoyers of bleak psychedelia and inner journeys. It is unexplainable from the viewpoint of academic theory but is almost palpable when played in a proper setup and volume. I'd recommend this FFO Barn Owl, Mark McGuire, early Stephen O'Malley projects and his associates.
Text by Dmitriy Churilov