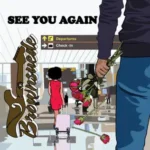 Brownsuede – See you again
Release Date: January 27, 2023
Label: Independent
Format: Single | Digital
Duration: 04:27
Genre: R'n'B
Brownsuede is a dynamic blend of newschool R&B and soul with pretty much everything else. The group's attorneys-turned-musicians Lud Creary (guitar) and Doc Martin (lead vocals) prove once again that music is king and overtakes one's soul no matter where they come from. With production from Otis Kane, whose work was featured in the Oscar-winning film "Hair Love," the EP is a must-listen for fans of modern R&B.
The scale of the band is already impressive – songs like "The One," "How to Do Dat," and "Fade Away" have received recognition in blogs and on college radio stations all across the US, peaking at #2 on the R&B/Soul charts at Appalachian State University. Brownsuede has garnered over a quarter of a million streams on Spotify and has been shared by big names like Neyo, Eric Benet, Anthony Hamilton, and DC Youngfly.
The band's latest installment, "See You Again" features a reduced rhythm section, that gives more space to a vocal-centered performance. Crystal clear production really highlights the simple yet elegant guitar and songwriting. "See You Again" is replete with romantic singing, heavenly vocal harmonies – and beautiful high notes that might even remind you of R&B superstar Maxwell. Doc Martin's falsetto is truly the language of love indeed! The absence of drums contributes to the spacious feeling of the song, giving extra room for attentive lyrics reception. As a single this track represents the current status and focus of Brownsuede as a creative force, and it has a lot of potential.
Brownsuede's latest songs are some great releases in the world of modern R&B. With its unique LA sound, smooth harmonies, and soulful lyrics, these tracks deliver a listening experience that is both uplifting and impactful. Brownsuede's material is sure to be a nice addition to your collection, so don't miss out on this musical offering and make sure we See You Again – today!
Text by Dmitriy Churilov