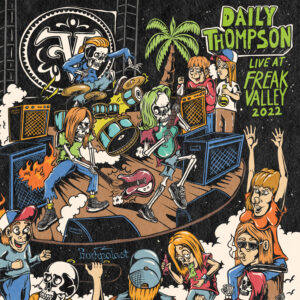 Daily Thompson – Live at Freak Valley
Release Date: December 02, 2023
Label: Noisolution
Distribution: Edel
Format: Album | Vinyl/Digital
Duration: 44:20 | 5 tracks
Genre: Alternative Rock / Heavy Rock
Origin: Dortmund, Germany
Freak out!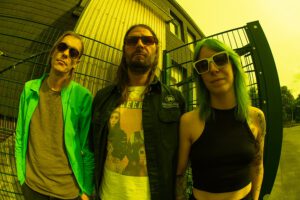 The album's name leaves no doubts – Dortmund's Daily Thompson have released their first live album. After five studio albums in only eight years, Berlin-Kreuzberg's label Noisolution now presents the live recordings from the trio's set at Freak Valley Festival 2022. The gig was recorded by Rockpalast and mixed by Tony Reed and it is now ready to make its heavy rotations on the turntables. The vinyl-only release is the final output by both band and label in the current year.
Best of the Pandemic Years / Best of the Noisolution Years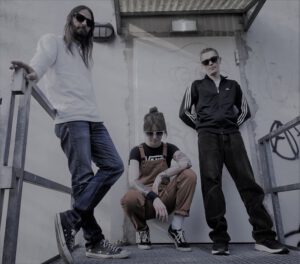 A short look at the tracklist reveals that at this concert Daily Thompson exclusively played songs from their last two albums. One could thus say, "Live at Freak Valley" is a live compilation of either Thompson songs that were released after the outbreak of the SARS-CoV-2 pandemic. Or, if you prefer leaving the Coronacene out of this, the live album only contains songs from their two studio albums released via Noisolution.
In the current line-up consisting of Danny Zaremba (guitar and vocals), Mercedes Lalakakis (bass and vocals) and Umberto Balaz (drums), the trio opens in front of a euphoric crowd with 'She's so cold'. The Space Rock anthem is a guarantee for goosebumps, and just like on the album "Oumuamua" it is a perfect trip starter. Without further ado, the sonic journey continues. The gig's second track 'Cantaloupe Melon' is refreshing like its fruity eponym, and it stands for the latest (known) development in sound of the German band.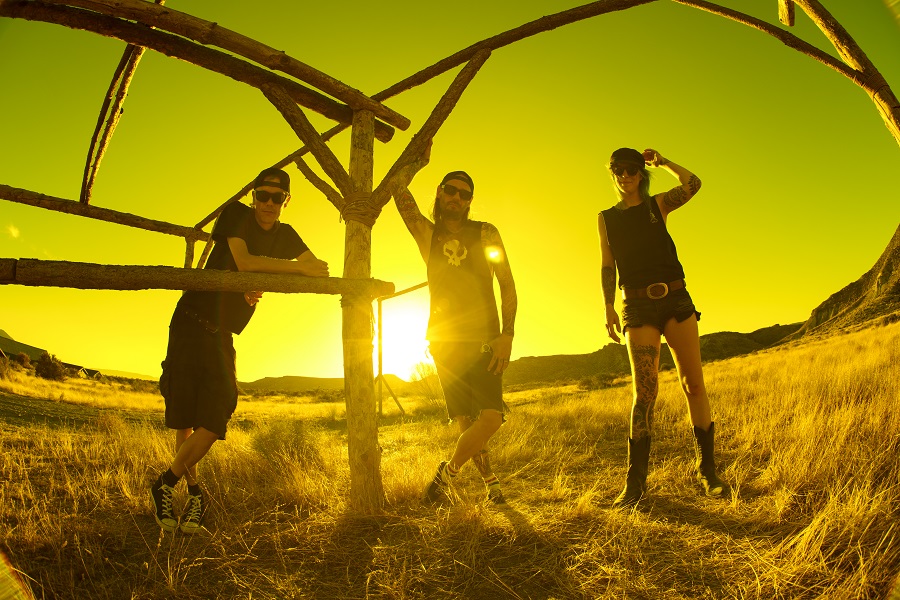 Heavy riffs and trancy moods
With the massively rolling Country and Alternative Rock banger 'Slow me down' and the thrilling Space and Desert Rock bastard 'Cosmic Cigar', two more tracks from "Oumuamua" are played. While the latter follows a similar vein as the opener, 'Slow me down' leaves the paths of mesmerizing sounds and invites the audience to abundant dance moves instead. Performance-wise, one can feel (and hear) that Daily Thompson have gained a lot of confidence when they began playing 'Cantaloupe Melon', and with 'Slow me down' their euphoria has finally overcome all insecurities.
'Cosmic Cigar' ends in a climax of white noise and the feeling of comfortably alighting on the floor after a long flight. But the show must go on, and so must the party – both for the band and for the audience. Thus, the concert perfectly ends with the Heavy Desert Rock and Grunge smasher 'Nimbus'. The song from "God of Spinoza" is made to make enthusiasm boil over, and hence is the ideal last track or encore.
Simply Thompson
"Live at Freak Valley" is predominantly an honest live album. The five-track release covers the recent creative phase of the Dortmund-based trio, and it contains a colourful bouquet of heavy and thrilling Alternative Rock. From Space to Desert, from Heavy to Grunge, Daily Thompson know how to entertain and how to have fun.
Early-day fans may miss content from the self-titled LP, from "Boring Nation" or from "Thirsty". Those who know Daily Thompson will yet know that the band will frequently put songs from their early releases into their live setlists. And this may be the trio's first live album ever, but it will not be the last one for sure. Hence, a set list focussing on the previous releases is a very good sign. This is not your standard "what-we've-done-so-far"-overview which may very likely end in a hiatus or even a disbanding. Instead, "Live at Freak Valley" is a sonic snapshot, a Daily Thompson concert for your record players, and a good way to bridge the time until the next album drops.
7/10 Mangoes
All pictures by courtesy of Noisolution.