This coverage was created via Musosoup #Sustainablecurator – a contribution was made by the artists to help sustain website costs.
Click here and run your own campaign on MusoSoup
Birdeatsbaby – Illuminate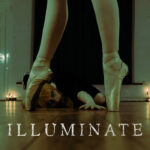 05:24 | Single | 11/11/2022
Digital | Independent
Post Metal / Prog Rock
Brighton/London, England
The latest single by Birdeatsbaby should originally be called 'Even if I crawl under the Weight of it All', named after the song's final chorus. At last, the title was shortened to 'Illuminate' which adds a slightly more optimist covibrance to the song's theme. 'Illuminate' is about being stuck in dark periods, constantly reflecting, and waiting for a solution to escape from this dark episode. Being surrounded by a lightless echo chamber, 'Illuminate' musicks the hope for a beam of light breaking into the dark cave. It is thus the voice of those who gather their strengths and forces for a final bearing. Birdeatsbaby present the soundtrack for standing up, not getting crushed, and welcoming the illumination that shall end the period of darkness.
'Illuminate' is the second single from Birdeatsbaby's upcoming album "HEX". Together with previous single release 'Ribbons', the England quartet gives their audience an impressive pretaste of the occult sound that is to be expected on the new longplayer. Fitting the lyrical theme of 'Illuminate', the song is an artistic unfolding and regaining of strengths transformed via Prog and Post Metal with an artistic and symphonic touch. Wave-like movements are created by the heavy Post Metal themes which carry a gloomy motif while Prog Rock features add little sparks of light to the sonic environment. Amidst this Swanlake-like dance between light and dark, cello and vocals take the lead. The imposant soundscape feels like recuperating and regaining one's confidence. As the arc of suspense rises further, 'Illuminate' has a highly empowering character, and therefore the white swan finally succeeds the inner conflict and spreads its wings.
8/10 Mangoes
TerraTara – Empty Apartment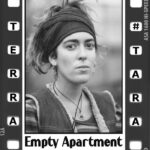 04:27 | Single | 18/11/2022
Digital | Independent
Indie Folk / Acoustic Rock
Slocan, British Columbia, Canada
Originally recorded by Kyra Soko int the year 1999, the song 'Empty Apartment' has been re-mastered and released. TerraTara provides a legit tune for the road with this polished Folk Rock track. 'Empty Apartment' is about that magical sphere between loneliness and solitude. It is that androgynous void that can occur after a certain episode of life has ended, and one is now facing crossroads leading to uncertain directions. The end of a relationship can cause sadness on the one hand and freedom on the other. Losing or quitting a job which one did not really like can mean loss of security but also new opportunities. This tabula rasa feeling, this overwhelming flood of emotions that can be born within an empty apartment, when hitting the road, is the fuel for 'Empty Apartment'.
TerraTara on vocals, guitar and harmonica, and Hamesh on congas play the anthem for embracing these situations in which one does not need anything except for oneself and one's empty pockets. This sound tastes like the endless freedom of a life on the road. Romantic images of campfires, horizons of beauty and gorgeous countrysides, sleeping under the open sky, or hitchhiking pop up with every touch on the strings. Those who prefer urban spheres, may see rooftops or abandoned industrial districts turned into hotbeds for post-modern arts in the soundscape. And after all, the void that is described in 'Empty Apartment' is immediately filled with hope and initiative. An apartment may be empty but the world around is full of spaces that want to be explored, and an empty pocket can be filled with souvenirs.
7/10 Mangoes
Roxercat – I changed today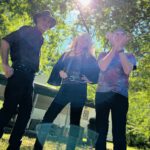 04:11 | Single | 18/11/2022
Digital | 9 Dog Records
Retro Prog / Heavy Rock
Nashville, TN, USA
On the second single from their upcoming EP "Pearls", Nashville-based trio Roxercat deal with that sudden realization that something has changed. This is about those moments when you stop and turn around to see the world with different eyes. It may occur during waking up in the morning, while being disrupted from a dizzy daydream, or in many other situations. All of a sudden, an invisible barrier has broken and it seems like life has given you a level up. And as with higher level comes more capability, one has to move on, take a step forward and embrace ones progress. Roxercat songwriter and vocalist Price Jones describes the moment depicted in 'I changed today' as a transformation to the next chapter, a turn of pages that introduces a whole new scenery.
The sonic way Roxercat present this epiphanic realization will help you get out of bed, to the breakfast table and into a fantastic day full of opportunities without problem. Progressive and Heavy Rock in the veins of the 1970s merges with the sweetest sounds of Soul and Rock'n'Roll and thereby moves body, heart, soul and the whole surrounding simultaneously. Outstanding features of this thrilling Retro Prog hymn are the powerful organ and the unleashing vocals. On top of this electrifying Rock'n'Roll sermon, guitarist Stan Lassiter and bassist Bill Francis joyfully let their instruments dance around each other – the solo parts half way through the song are the greatest example for that. And when this empowering anthem ends with its last chorus, you will smile and think, yes that is what honest and dynamic Rock music shall sound like.
7/10 Mangoes