This coverage was created via Musosoup #Sustainablecurator – a contribution was made by the artists to help sustain website costs. Click here and run your own campaign on MusoSoup
---
Freak Orlando – UNSOLICITED DEMO
| | |
| --- | --- |
| June 02, 2023 | Jet Stunt Factory |
| Demo EP | Digital | 26:44 | 6 tracks |
| Psychedelic Noise / New Wave | Mexico City, Mexico |
We did not ask for this!
And yet, here we are, enjoying Mexico City-based artist Freak Orlando's UNSOLICITED DEMO – nomen est omen. Before we dig into this six-track release, some ambiguities need to be removed. To begin with, Freak Orlando is the brain child of multiinstrumentalist Raul Pozo. Thus, similar as in the Pink Floyd song Have a Cigar, the question
Oh, by the way, which one's Orlando?
can easily be answered: no one's. No one is called Orlando here.
Demos Galore
Secondly, the release on hand is not just a demo, it is also a collection. When looking for the output of Freak Orlando on platforms such as TIDAL, YouTube, SoundCloud, you-name-it, one will detect three EPs called Demos I, II, and III. The release named UNSOLICITED DEMO is not listed here. Instead, it can be found in the category playlists. That is due to the fact that this six-track collection contains songs featured on Demos I and Demos II. Release number three, Demos III, was published later, and has therefore not been taken into consideration for the choice of songs on the demo EP on hand. Now that we have clarified this, we are ready to embrace the sonic of Raul Pozo.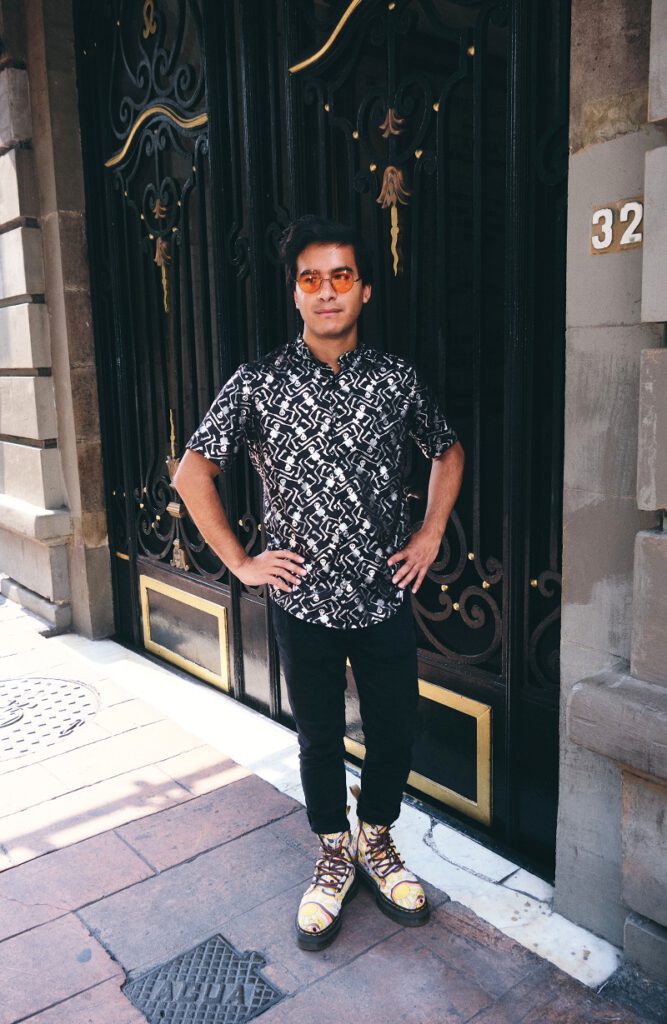 Moving on
While many artists and protagonists of the music scene try to keep Rock'n'Roll alive at any cost, Freak Orlando is here to pull the plug and move forward. This very movement is undertaken by combining thick sonic mists, a self-empowering punk rock attitude, and timeless rhythms to shake one's legs to.
UNSOLICITED DEMO is introduced by the heavy New Wave banger Honeymoon at Cana. Freak Orlando creates a melancholic image with thick brushstrokes and intense sepia colours. Next up, Spectra Spectacle is a soulful track for fans of Ben E. King which sounds as it was born from an Indie Rock jam on the classic Stand by me. On SoundCloud, the third track Limbo Disco Alarm is a guarantee for a polonaise when played at weddings or birthday parties. While in the verses Freak Orlando provides the listeners with some 1970s style Punk Rock, the chorus is a gigantic conga line. The Spotify edition's third track though is the surf guitar-driven Indie Rock anthem Her words are divine. Between thundering drums and sunny guitar licks, this tune is a true feel-good hymn.
Progress
For the remaining tracks, there are no major differences between SoundCloud and Spotify version, except for the order of songs. The demo's second half features the hazy Pop song Oblivion Principles which sticks in the listeners' memory due to its catchy chorus and its slightly overmodulated production. As a legit climax of this release, Hallucinate the Supernatural outperforms everything else featured on UNSOLICITED DEMO. A heavy thunderstorm made from Post Punk in the veins of Depeche Mode plows down every doubt on the quality of this collection. Fans of Yello will exult when listening to the track Land of the Phantasm. Imagine the Swiss duo performing their big hit The Race while drifting into breakbeat and adding savage drumming.
A Volcano of Great Ideas
UNSOLICITED DEMO is a great piece of self-representation for Freak Orlando – a demo release in its truest meaning. It is furthermore a legit bedroom production. And while the six tracks (and further releases by Freak Orlando, too) prove that Raul Pozo knows his craft very well, the sound is very raw, yet. From Post Punk and New Wave to Noise, and from Shoegaze and Indie Rock to Psychedelic Pop, Freak Orlando merges classic sounds with amazing modern ideas. In the end, it is mixing, mastering and fine tuning that are necessary to make this raw jewel shine bright like a diamond.
7/10 Mangoes
Pictures by courtesy of Raul Pozo / Freak Orlando