Three great new releases – Three short reviews.
If available on Spotify, one song each will also be added to the MangoRotation playlist for 14 days.
Further featured playlists of this post will be listed on the bottom.
This coverage was created via Musosoup #Sustainablecurator – a contribution was made by the artists to help sustain website costs.
Click here and run your own campaign on MusoSoup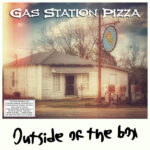 Gas Station Pizza – Outside the Box
29:37 | Album | Indian River Music Company
Hardcore Punk / Noise | Oviedo, FL, USA | 23/09/2022
Facebook | Twitter | bandcamp | SoundCloud | YouTube | Spotify
You may ask youselves, what does it need for a Gas Station Pizza? And first part of the answer might even confuse you because a gas station itself is not even a necessary detail. Instead, first of all, four well-trained cooks are needed. Floridan chefs Elden Santos (Massacre / Druid Lord – drums), Javier Perez (Spawndie / JP2 / Runnin Blind– guitars), Cody Nordine (Alphæus / Nordic Hamster – bass) and Jason Banning (Spawndie / Alphæus / Bleeding Inc / Cope Throe – synths, samples, guitars, bass, vocals) have thus joined forces. Together, the four Metal cooks have worked on ten extraordinary recipes which make the first menu of Gas Station Pizza: here is "Outside the Box":
The crust is made from solid and spicy Hardcore Punk. Tasty, solid, still oily, and definitely saturating, the dough embraces your tongue before the sauce can burn your palate. As it comes to the toppings, the Floridan chefs have pressed all the important buttons for a taste adventure that hits the sweet spot between joy and pain (in a good way). Heavy and gloomy late 1990s-style Alternative Rock dances across the taste buds while massive Noise grinds on the skin like crazy. Have a bite and feel the urge to join the next moshpit. If you feel some Heavy Metal bits, those are intended. And since a great pizza is nothing without some side dishes, Gas Station Pizza have also served some tasty extras. The melancholic Ambient track 'Nostalgia' is balm for your battered tongue, and the 'Punk Rock Alarm Clock' comes up to its name big time. 8/10 Mangoes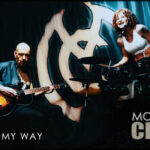 Molosser Crude – Pushing my Way
06:00 | Single | Evil Ear
Heavy Rock / Stoner Rock | Uråsa, Sweden | 23/09/2022
Homepage | Instagram | YouTube
Swedish duo Molosser has had several appearances on the old MangoWave page –click here to read more. A few things are different this time, and this is not about MangoWave. On previous releases such as the stunning album "Appear", vocalist and drummer Tess has been accompanied by Jahn on acoustic guitar. Now that the suffix Crude was added to the band's name, Jahn's guitar is electrified and amplified. Does that have an effect on the overall sound? It does indeed!
The parallels between Molosser and Molosser Crude are still obvious: Tess' mesmerizing vocals, the thrilling rhythm patterns, and the sonorous riffs by Jahn which constantly draw the bridge between Folk and Blues are omnipresent. And yet, with their crude transformation, the duo from Uråsa has given their stunning sound a whole new paint job. Carried forward by massive fuzz and heavily distorted sounds, the sonorous soundscape moves like a hike through tideland with heavy boots. The cold atmosphere of nordic Folk meets the heavyweight heat of Desert Rock à la Slo Burn. From the Mississippi Delta to the Scandinavian tundra with a little detour over the Sahara, Molosser Crude have brought us the heavy sound we need for the next winter. 9/10 Mangoes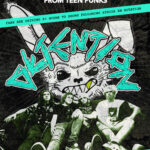 Detention – Faded, Not Jaded
03:08 | Single | Independent Release
Skate Punk / Melodic Punk Rock | Akron, OH, USA | 03/10/2022
Homepage | Facebook | Twitter | Instagram | SoundCloud | YouTube | Spotify
With Detention from Akron, Ohio, here is another band that has been featured on the old MangoWave page. If you have not come across this young and aspiring band, better keep their name in mind and follow their social media links, because Detention have already been successfully revitalizing Punk Rock for several years. The award-winning band combines the raging power of 1980s Skate Punk with Millenium-era Melodic Punk influences and brings this explosive cocktail to contemporary times by adding their very own spice to it. And just like that, with songs about coming of age, but also by addressing issues that concern us all, Detention play music for all ages.
In their latest single 'Faded, not Jaded', Detention address prejudism and the inability to control what other people think of you. A person may have a completely different representation in many different other people's heads. And although these images may undergo some change, the person themselves can never fully control how others see them. Between anger, desolation and acceptance, Detention spread their thoughts on these images by wrapping them up in a dynamic and motivating Skate Punk anthem with powerful gang shouts – a confident hymn for self determination! 8/10 Mangoes
Featured Playlists
MangoRotation
MangoWave Release Radar
The Mango 100: Noise
The Mango 100: Party
The Mango 100: Punk / Hardcore
The Mango 100: Workout
Sound of the USA: The Mango 100