Three great new releases – Three short reviews.
If available on Spotify, one song each will also be added to the MangoRotation playlist for 14 days.
Further featured playlists of this post will be listed on the bottom.
This coverage was created via Musosoup #Sustainablecurator – a contribution was made by the artists to help sustain website costs.
Click here and run your own campaign on MusoSoup
cruncci – whacc intentions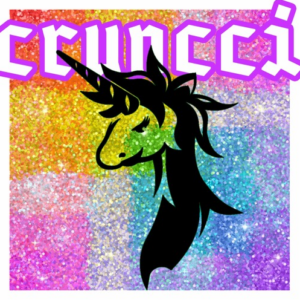 14:34 | EP | 13/09/2022
Digital | Independent
Trip Hop | Darkwave
Santander (Bolívar), Colombia
Colombian artist cruncci has inhaled the air of several eras of game-changing rock music. Although cruncci's musical career began amidst the bursting energy that was born in Seattle, Washington in the later days of the 20th century, his musical influences reach back a lot further. As a rock musician, cruncci soaked in the Blues-driven post-Rock'n'Roll sounds of bands such as The Rolling Stones or The Kinks as well as the glorious creative work of 1970s' bands like Led Zeppelin or Styx. Before Grunge, New Wave and Punk Rock left their traces in cruncci's creative mind, and so did genres beyond the realms of rock music, such as Hip Hop and Breakbeat.
You may wonder what kind of sonic bastard is born from such a savage musical melting pot, and the answer will delight your senses. While the music that cruncci presents on his EP "whacc intentions" can predominantly be categorized somewhere between Trip Hop, Drum'n'Bass, Darkwave, and Industrial, it is yet a colourful bouquet that has grown from seeds of more than half a century of revolutionary music. Distorted Hard Rock motifs float across the lower regions of the soundscape while the sonic sky is coloured with the light pain of Stadium Rock. Punk Rock and Grunge give the musical image's background a somewhat dystopian and yet rebellious paint job that screams "Crash the system" as in the song 'Pet Pixals'. Spoken word an Rap make their way to the front and thus directly address the listeners by motivating them to fight for a better future. Those four dimensions are held together by the powerful force of Electronica that define the center, the vibrating core of this unique soundscape. Revolutionary music will neer stop renewing itself, and "whacc intensions" by cruncci is living proof for this process.
7/10 Mangoes
Call in Dead – Deepest Condolences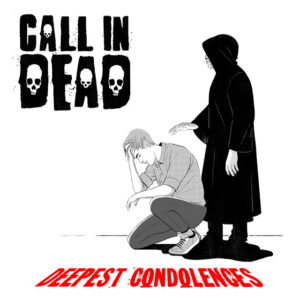 23:58 | Album | 14/10/2022
Vinyl/Digital | DCxPC Live / Wrecking Crew Records
Hardcore / Punk Rock
Orlando, FL, USA
Although, this is the first time Call in Dead appear on www.MangoWave-Magazine.com, the Hardcore Punk veteran band from Orlando, Florida has had several features on the old MangoWave site – click here to dive into the past. Canadian label Wrecking Crew Records has recently published the first longplayer by the housewrecking quartet. It is a sixteen-track compilation that features the original vocalist Jaeh Peck who left the band in late 2021. More recent recordings such as 'Patriarchy' (Fuck your gender norms) or 'Religious Wars' that feature the new singer Ripley will hopefully be part of future full-length releases. Another little fact that does not have to do with the music on "Deepest Condolences" is that Canadian and US-American version of the vinyl record come with different cover artworks.
Sixteen tracks and less than half an hour make the content of "Deepest Condolences". And those twenty-four minutes shall better not be underestimated for their sheer force. Hardcore meets Skate Punk in a merciless moshpit that is ready to turn into a hurricane. Call in Dead shoot heavyweight riffs at high speed while only tiny bridges between those blasts leave the listeners time for catching breath. Even the Offbeat-Ska Punk song 'Summer Camp' is a massive wrecking ball. On their first album, Call in Dead combine full throttle Punk Rock for the skate park à la Millencolin with early-day Hardcore Punk comparable to NoMeansNo and present it with a shiny new paint job. It may not even be a big surprise that the album features a Minor Threat cover. And just like that "Deepest Condolences" is a release that screams as long as injustice in the world has not ended, Punk Rock is here to stay!
7/10 Mangoes
Lolita Terrorist Sounds – Curse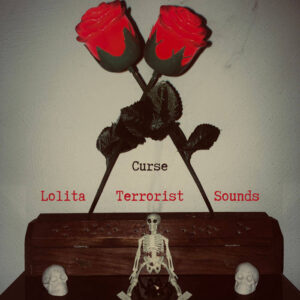 04:41 | Single | 09/09/2022
Digital | Independent
Post Punk / Art Rock
Berlin, Germany
Last but not least in this series of revolutionary sounds, let us have a closer look at the dark side – the cursed side if you want. As British Folk artist Flaming June has sung 'In the Dark there's Gold', and thus we shall embrace the gloomy light of this thrilling single. The release date of 'Curse' by Lolita Terrorist Sounds from German capital Berlin is no coincidence, since on September 09, 2022, the moon shone bright and full over Central Europe, pleasing the needs of lycanthropes and dark romanticists. Amidst this fantastic world where black magic is being contraposed with consumerism, Lolita Terrorist Sounds invite us into the realms of their dark kind of humour.
The motor for this deep Post Punk and Darkwave séance are the hypnotizing drums that make the listeners dance in circles around a ritual campfire. Piercing and soothing simultaneously, the vocals take listeners by their hand, carefull guiding their trip while the psychedelic soundscape intensifies this mindexpanding experience. Bass, guitar and violins emphasize the colourful flashes shot into the dark by the drums, while the shamanic voice hovers above this mesmerizing sonic trip. And as the harsh critique on materialism gently fades out, one might ask oneself if this was just a weird dream, or if the voices that spoke of greed, energy and glory were real. And thus, like gaining new energy from a mindexpanding experience, a new perspective on consumerism is born.
8/10 Mangoes
Featured Playlists
MangoRotation
MangoWave Release Radar
The Mango 100: D'n'B / Glitch / Jungle
The Mango 100: Dark Pop / Trip Hop
The Mango 100: Electropunk / Riot Techno
The Mango 100: Gothic / Industrial
The Mango 100: Post Punk / New Wave
The Mango 100: Punk / Hardcore
The Mango 100: Workout
Sound of Colombia: The Mango 100
Sound of Germany: The Mango 100
Sound of the USA: The Mango 100