This coverage was created via Musosoup #Sustainablecurator – a contribution was made by the artists to help sustain website costs.
Click here and run your own campaign on MusoSoup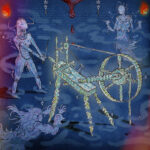 Gabrielle Ornate – Phantasm
Release Date: November 25, 2022
Label: Minerva Sounds
Format: Single | Digital
Duration: 03:42
Genre: Indie Rock / Alternative Pop
Origin: Needham Market, England
Once upon a time…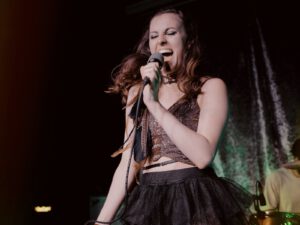 … there was a curse. And those who were struck by it, were tied to a spinning wheel where they had to spin silk for infinity. Only the sheer power that is created when opposing poles meet is able to break this curse. It is the energy that emerges from the conjuncture of light and dark, of internal power and external rage that is needed to reset karma and end the curse. Gabrielle Ornate's new single 'Phantasm' tells the tale of this curse being broken, of fate, of solace, of negativity being absorbed, and of an end to pain.
Like most fairytales – especially the good ones – 'Phantasm' is full of parabolic imagery. The sonic fairytale of a nameless protagonist locked in and bound to the spinning wheel does not only show parallels to other classic and modern tales. It reproduces traditional imagery with modern content and thus creates space mor manifold interpretations. Whether one prefers to draw references to capitalism, patriarch structures, and liberation, shall be left to more scholarly reviews. 'Phantasm' is in any case a sonic tale about female empowerment and a call for liberation from oppressive structures.
As Worlds collide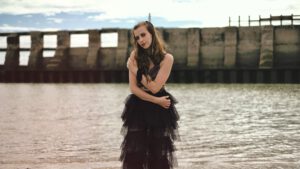 Gabrielle Ornate's empowering anthem is an impressive behemoth that is born from an interstellar clash of styles and genres. A heavily rolling Rock lick plows its way through the song while dynamic Synthwave motifs paint the musical background with thick and gorgeous oil colour. The collision of massive Rock'n'Roll and energetic Synth Pop creates high voltage that then discharges in the sheer power of the chorus. In the centre of this intense soundscape, the unique vocal style by Gabrielle Ornate puts all the pieces together and thereby turns this conjucture of styles into a colourful and psychedelic whirlwind.
'Phantasm' is a storm, and it is here to blow down the walls and structures of an unfree past.
8/10 Mangoes