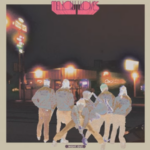 Mellow Waves – Night Out
Release Date: October 14, 2022
Label: Spring Park Avenue Records
Format: Album | Vinyl/Digital
Duration: 35:46/56:44 | 9 tracks + 3 bonus tracks
Genre: Blues Rock / Rock'n'Roll
Origin: Finland
Ready to go out?
The lights are low, the mood is mellow, and the whole evening is about to become very comfortable and calm. Is this the way this weekend shall go down? Not if the Mellow Waves can help it. The Finnish sextet is here to take their listeners by the hands and take them on an honst joyride. Why honest? Because being mellow is part of being alive, and thus a "Night Out" is always accompanied by ups and downs.
When the dancing shoes get the Blues
The dance that Mellow Waves start here, is a real cuddlesome one. The album contains some legit bangers like the title track on the A-Side, or the Mark Knopfler-like Folk Blues anthem 'Show me where' on the B-Side. Between those highlights, "Night Out" is restlessly trying to entertain and to convince. The recipes that Mellow Waves work with can be found in Rock'n'Roll, Blues Rock or Soul Rock toolboxes as in those of Moving Oos, Dire Straits or Silvershark. But the vital spark is mostly hidden behind a mist of melancholy.
Sighs under the Moonlight
And thus, after all, "Night Out" is an album that consists of tracks which could be played in late night radio shows or which can accompany a nocturnal ride. It is the sound of a night full of thoughts, passion and mood. As honest, as gentle, and as empathetic this album is, Mellow Waves' album lacks sustainability and memorability.
5/10 Mangoes
Mellow Waves are:
Pasi Pöljö – vocals, electric guitar, acoustic guitar,
Simo Kohopää – electric guitar, acoustic guitar,
Niko Saarinen – hammond organ, piano, synths,
Matti Leponiemi – saxophone,
Riku Pöljö – electric bass, and
Sami Pylkkänen – drums, percussions.