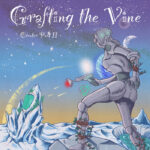 Grafting the Vine – Creator Part II
Release Date: December 15, 2022
Label: Courtright Studios
Format: Album | Digital
Duration: 29:47 | 7 tracks
Genre: Dysphoric Instrumental Metal
Origin: Los Angeles, CA, USA
Grafting the Vine is back with yet another unnervingly dark album that continues to explore the subjects of personal struggles, depression, maturing, and overcoming.
"Creator Part II" picks up where the last album finished – an experiment in dysphoric instrumental metal, it's a clusterfuck of heaviness and mayhem extracted from the feelings of disconnection, loneliness, and despair. It might seem that I am overreacting, but you listen to those two releases and tell me if I was wrong.
Compared to the first installment, Part II demonstrates considerable growth in songwriting and (a little less) production. Tracks remain pretty long and substantial, execution is unrelenting, as melodies and hooks morph and intertwine. The opening number 'Deep Seas' highlights the best parts of the band's musicianship, with the harsh guitar sound and torn riffing. The further the album goes the more apparent and distinctive this style becomes, hopping from one riff to another, from distortion to acoustic pieces, and spacious drumrolls take turns machinegun-like double bass. The cement that holds it together is the overall feeling of hopelessness and darkness. 'Quill and Pen' takes it to the extremes, balancing between Death-inspired acoustic passages and the almost unreadable gravity blasting mess of the closing riff.
While the album is a huge step forward – taking into consideration the abundance of never used before effects and keys – it kind of becomes predictable in the closing tracks. Still, it is not something I'd call a shortcoming, but rather a specific trait. If you dig it, you do, but if not – you probably won't make it to the last track.
Music of Grafting the Vine still breathes the therapeutic effect that conceived the project in the very first place, and I think it will find a way to the hearts of many who have suffered, longed, and waited. It did for me.
Text by Dmitriy Churilov