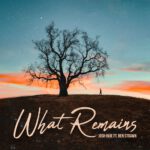 Josh Huie – What Remains (feat. Ben Strawn)
Release Date: November 18, 2022
Label: Josh Huie Music
Format: Single | Digital
Duration: 03:31
Genre: Pop
Origin: Arkansas, USA
From the realms of stock upbeat music and the underworlds of lightheaded piano indie crawls 'What Remains', a new offering from Josh Huie, an emerging artist from Arkansas. Josh is ready to take the kingdom of Pop by storm, first displaying his intention with the mandatory 'Hallelujah' cover. In his newer work he deeper explores the shallow and warm waters of sunshine ballads and melodramatic storytelling.
What remains after all? As the first acoustic chords enter the mix buried deep under the beautiful Hanson/Bieber vocals (and a handful of synths), I feel the praise of Josh's talent on my lips and face – he is one sweet fellow, operating with the classic pop music schemes. And he does it so thoroughly and devotedly that at times it feels like I am five minutes into an insurance ad, as it feels so cosy and relaxing.
The beat is straight, the sound is soft, but my admiration towards Josh is hard. There is nothing really unexpected in this song, but it's guaranteed to break a thousand hearts and mend a thousand more.
Another thing worth mentioning is 'Ablaze', a track that represents the use of a male/female vocals duo and a little more expanded songwriting. So, if you are tired of all the bad thingies that happen today, put on 'What Remains' and find it out yourself.
Text by Dmitriy Churilov