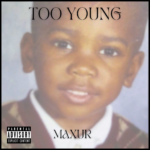 MAXUR – Too young
Release Date: December 09, 2022
Label: 222 Records
Format: Single | Digital
Duration: 03:46
Genre: R&B / Chill Pop
Origin: Los Angeles, CA, USA
Sean Alan Mazur aka MAXUR is one of the brightest examples of how youth, romance, and talent win the olympics of the Rap game.
Little is known about the persona of MAXUR, and alas little material he has recorded so far. 'Too Young' is the latest release, a single song after being featured on Shilove's Lonely. To some extent it helps to decrypt what stands behind the creators character – and what to expect in the future.
Overall feeling transmitted by 'Too Young' has much in common with naive romantic bedroom tapes that made the whole Emo Rap thing popular. Little boy on the front cover is probably MAXUR himself, and combined with the lyrics depicting the process of maturing, making mistakes and accepting oneself, it is safe to assume that 'Too Young' has a lot in common with Lil Peep and (partially) the autistic phase of Kanye West (the early one).
Nonetheless, MAXUR today doesn't look anywhere close to the famous skinny bois with facial tattoos – on the contrary, he is one fit gentleman opting to exploit the style of romantic R'n'B artists of the 90s. And that actually opens the door to experience his songs, which are exactly that type of romantic gentle humming from the dimension of nostalgic Rap sound.
'Too Young' starts with dreamy keyboard landscapes and MAXUR begins humming his deeply personal lyrics. After the first refrain, tight drums pop up in the classic tradition of mainstream Hip Hop.
The soothing humming goes on, and in the second part of the song a slightly overdriven guitar line is added, further deepening the vibe of an R'n'B ballad in the vein of Marvin Gaye and such.
As soon as you kinda get hypnotised and carried away by MAXUR's revelations the song abruptly ends. The catchiness of 'Too Young' is preserved by its shortness, leaving you asking for more.
Summarising all of the above, it is fair to expect, that MAXUR might start exploring even more pop directions, as the wider mainstream music landscape definitely shows demand for that kind of artistry. With new names like Joji becoming huge established stars MAXUR is positioned to attract impressive audiences with his honesty and intimacy.
Text by Dmitriy Churilov