This coverage was created via Musosoup #Sustainablecurator – a contribution was made by the artists to help sustain website costs.
Click here and run your own campaign on MusoSoup
littleuniverses – Sword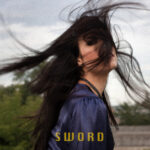 03:16 | Single | 26/10/2022
Digital | Independent
Dark Pop / Art Pop
Montreal, Québec, Canada
In her latest single release 'Sword', Montreal's Monica Czerniak – also known as littleuniverses – explores a deep rift between digital and analogue reality. It is a song about love and about losing oneself in admiration for the digital image of another person. This love goes far beyond the realms of the digital sphere and thus the admiration sloshes into the real world. In the end, one will wake up from the digital dream, and wonder what is real and what was just an idea. Thus, littleuniverses remind us that satisfaction and happiness is better be found in real human interaction.
'Sword' is a sonic descension into the tempting chasms of cyberspace. The dreamy and yet deeply dark soundscape artistically lets Dream Pop and Dark Pop merge into a massive vortex of sound. Between fine sprakles of Electronica that shoot through the air and a heavy foundation made from Post Punk, vocalist Monica Czerniak lures the listeners into the deepest cavities of the digital rabbit hole. In the end, the high tension of the song is blown away like smoke. This beautifully symbolizes the dissatisfying experience of realizing that one got lost in a cyberdream.
7/10 Mangoes
Bloodtooth – Holding me back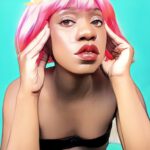 01:52 | Single | 14/10/2022
Digital | Puffy Inside Records
Pop Punk / Indie Rock
London, England
With the single 'Holding me back', London's Pop Punk duo Bloodtooth serves a dynamic package that contains nostalgia as well as a modern twist. In less than two minutes, the English band invites us to a sweat-inducing workout session full of fantastic imagery. The boppy soundscape's colours take the audience to monumental arenas where legends such as Son-Gohan or Piccolo have fought. When Bloodtooth introduce a Dragonball-themed workout session, can you be held back?
Even if the anime-style theme does not activate every bone of your body, the music sure will. On a simple but extremely energetic two-four time of the drums, Bloodtooth present the anthem for breaking out, for standing up for yourselves, and for encountering everything or everyone who is holding you back. A dirty 1980s-style Punk Rock bass line builds up the thrill while the guitars sporadically shoot across like lightning. The verse is a heavily empowering Punk Rap in the style of The Beastie Boys which then slides into an anthemic Blondie-like chorus. Songs like this one are the reason why the repeat-button was invented.
8/10 Mangoes
Holz – Holz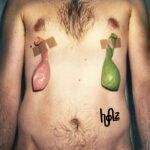 42:53 | Album | 18/11/2022
Vinyl/CD/Digital | Tonzonen Records
Stoner Punk / Heavy Rock
Kassel, Germany
We were all taught not to judge books by their covers, and we really should do the same when it comes to album covers. Nevertheless, this cover artwork by Bernhard Balkenhol deserves a prize for its ugliness, or at least a thread in this Facebook group. It is therefore very important to lay the sleeve face down when CD or LP are spinning. The good thing is that behind this monstrosity of a picture, there is a pretty decent album.
Holz (German: Wood) is a trio from Hessian city Kassel, and on their self-titled debut album they provide us with a fuzzy and dirty mix of Punk Rock and Stoner Punk. One might think of bands such as DxBxSx or VUG when Maik, Martin and Leonard present their smoking hot sonic middlefingers. And thus, the selftitled album by Holz feels like angrily stomping through heavy ooze while constantly looking for a lighter. This heavyweight of a full-length does not come up with big surprises, but it contains a lot of fun for fans of John Garcia bands and heavy Punk Rock.
6/10 Mangoes