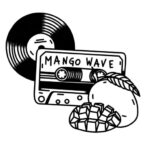 Another little Journey through Time
Want to advertise on MangoWave?
Send an e-mail to raphael@mangowave-magazine.com
---
The Devil's Work
The Melvins could not have celebrated their ten-years anniversairy as band better than by releaseing Houdini. The band's first release on Atlantic Records is widely regarded the greatest album of the Melvins, and one of the greatest Rock and Metal albums of all times generally. It is the album that might or might not have been co-produced by Kurt Cobain, the album that was born from pure chaos, and the album that made the Melvins immortal.
Oozy, sludgy, grungy
The 1990s were the Golden Age of Grunge and Alternative Rock, and the Melvins might have benefitted from that hype. Nevertheless, the band from Montesano, Washington did not play by the rules all too much. While the Seattle sound dominated clubs and radio stations, the Melvins created their own style, and the album Houdini is a great example for this. Between the brutality of Sludge Metal, the eschatological atmosphere of Doom Metal and the Fuck-Off-attitude of Punk Rock, the Melvins' very own Alternative Rock recipe was compounded.
Merciless, flawless
Houdini is a flawless gem, truly an album without skip-tracks or misses. It furthermore contains one of the greatest vrsions of KISS' Goin' Blind. From heavy and doomy Sludge tracks over next-level Thrash Metal attacks to majestic Grunge hymns, there is nothing to complain here. Sounds like collapsing walls made this gorgeous deconstruction of music.
Melvins
Buzz Osborne – guitar, vocals, bass producer, mixing, engineer
Lorax – bass (credited but did not perform)
Dale – drums, vocals, bass, producer, mixing, engineer
with
Bill Bartell – bass, lead guitar (Goin Blind)
Billy Anderson – bass (Hag me, Teet); engineer, mixing
Kurt Cobain – guitar (Sky Pup), additional percussion (Spread Eagle Beagle); producer, mixing
Al Smith – additional percussion (Spread Eagle Beagle)
Mike Supple – additional percussion (Spread Eagle Beagle)
Additional personnel
Jonathan Burnside – engineer
Tom Doty – second engineer
GGGarth Richardson – mixing, producer
Joe Marquez – second engineer
Wolf Kessler – second engineer
Lou Oribin – engineer
Barrett Jones – engineer, mixing
Don Lewis – band photo
Frank Kozik – art direction, illustration
Valerie Wagner – art direction, design
Stephen Marcussen – mastering
---