This coverage was created via Musosoup #Sustainablecurator – a contribution was made by the artists to help sustain website costs. Click here and run your own campaign on MusoSoup

---
Slutavverkning – Grisar
| | |
| --- | --- |
| August 03, 2023 | Feral Cuts |
| Single | Digital | 04:21 |
| Jazz Punk / Noise Rock | Stockholm, Sweden |
Labour Conflict in Swedish
An unholy unit was summoned. The collective minds of musicians from Dödsvarg, Fire! Orchestra, Opeth, Stockholm Jazz Orchestra, and Candlemass have gathered. Together, they are a new nightmare to capitalists, neo-liberals, and lovers of conventional music. The trilogy of EPs called Arbetets Sorgemusik Del I-III has already proven that the Swedish quintet are not in the mood for joking when bend and merge genres while calling for an anticapitalist uprising. Let us thus joyfully embrace the last days before the debut album Levande Charader will be released via Feral Cuts on September 01, 2023. Therefore, the longplayer's second single Grisar came just right. Here's the noisy Jazz Punk anthem you all have been waiting for:
Cruelty and Speciesism
Grisar is a grave and brutal confrontation with reality. Slutavverkning address the topics of diet, animal rights, consumption, and the dignity of those creatures whose lives take places on either side of the slaughterhouses' walls. They therefore concern the degradation of a sentient species to a simple product, they pillory the means of production in which animals become nothing more than numbers, and they address the perversion of consuming another being's flesh of pure and ignorant joy. Grisar is the tale of a cruel death machinery driven by capitalist and speciecist ideals.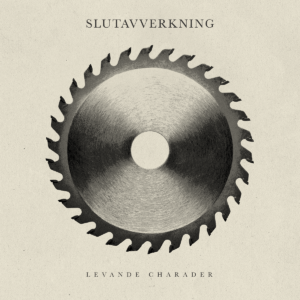 The Sound of the Mincer
Previous releases have shown what Slutavvverkning are doing when they combine their members' different musical backgrounds. Hardcore Punk and Noise clashes with saxophone-driven Jazz and a message that shall unite intellectuals with the precariat. The new single Grisar marks a transition to a new level though. Heavier than before, the noise-lasty song sets the darkness inside the death machinery to score. Even the saxophone reaches a whole new purpose as ist screams and squeaks in apin and horror. Slutavverkning have been convincing before, but Grisar sure is their masterpiece so far.
9/10 Mangoes
Jon Ekström – vocals
Pelle Andersson – guitar / mix / master
Marcus Källström – drums
Per Wiberg – bass
Isak Hedtjärn – saxophone / clarinet
---