This coverage was created via Musosoup #Sustainablecurator – a contribution was made by the artists to help sustain website costs.
Click here and run your own campaign on MusoSoup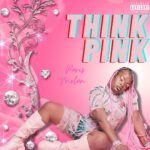 Paris Melan – THINK P!NK
Release Date: November 13, 2022
Label: Independent
Format: Mixtape | Digital
Duration: 35:50 | 13 tracks
Genre: Rap / Hip Hop
Origin: Detroit, MI, USA
From the Club to the Streets, the Lights are Pink
For about half a century, Rap music has been around to change the world – not only musically. From Compton to Haarlem, from Funk samples to Trap beats, from gun-waving Street Rap to Club bangers, colours have always been crucial. But amongst the colours that have been shown, represented and stood for, one colour has played a minor role for far too long: pink.
Pink is Life, Love and Toughness
The latest mixtape by Detroit's Paris Melan does not beat about the bush and shows what it is about openly instead. Titled "THINK P!NK" and showing the artist in drag fashion surrounded by a pink background, the mixtape screams LGBTQIA. Yet, the colours and the fashion should not lead to assumptions of sweet bubblegum sounds or heart-breakingly melodic Soul. Instead, Paris Melan provides the listeners with tough, raw and forceful rap vocals on banging beats.
Don't mess with the Pink
Paris Melan serves several styles on the mixtape. Street and Gansta Rap tracks as raw and dirty as the concrete in Detroit are featured on "THINK P!NK" as well as party tracks that will turn every club into a boiling pot or cinematic songs for long car rides. The main feature that leads through the mixtape like a pink thread is Paris Melan's confident, broad-shouldered and powerful self-representation. The revolution is pink, and this is what it sounds like.
8/10 Mangoes