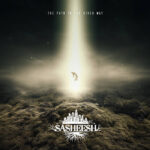 Sasheesh – The Path to the Other Way
Release Date: November 25, 2022
Label: Saschisch Entertainment
Format: Album | Digital
Duration: 35:35 | 15 tracks
Genre: Jazz Hop / LoFi Hip Hop
Origin: Bruchsal, Germany
Sasheesh is the alter ego of Sascha Dorr, a big name in the German musical landscape. And I mean it – it's a 2.07-meter-tall gentle giant, who is gifted not only physically but with talents, too. Moving around the scene mostly related to Metal since the beginning of the second millennium, Sascha succeeded with his more extreme and technical efforts, running with such household names as NACHTSCHATTEN and ENTORX. But in 2021 he had the urge to do something different. And that was Sasheesh.
From the moment Sasheesh started, it was completely different from what Sascha had been doing before. Compensating experience with productivity, five releases came out in two years under the moniker of Sasheesh – and all of them featured mellow, midtempo beats, fitting the modern concept of "lo-fi hip hop to study to". Today we'd be dissecting the latest one "The Path to The Other Way", released in 2022.
First of all, the first time you open that bandcamp page, something is instantly off. The page just doesn't look like a lofi hip hop artist page, giving away the cultural background of Sasheesh's mastermind. The artwork is a straight away from your Prog Metal archives.
Fifteen tracks await inside, and let me tell you – those are not your average youtube 30-second long snippets, but fully composed works. The style of Sasheesh is determined by the active use of guitar and carefully selected keyboard fx (check out 'Sanity' with the sweet buzzing of 90's hip hop). Sascha definitely knows his production, mixing everything in the area of smooth jazz and chill pop, rather than actual lo-fi. Cause everything from "The Path to The Other Way" is pretty hi-fi.
Sasheesh is an another great example of a multi talented musician conquering any genre there is – as far he's got that mojo for producing killer grooves and sassy loops.
Text by Dmitriy Churilov