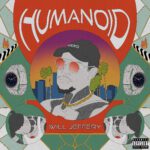 Will Jeffery – Humanoid Baby!
Release Date: January 07, 2023
Label: Great Vibes Entertainment
Format: Single | Digital
Duration: 05:15
Genre: Hip Hop / Trap
Origin: Los Angeles, CA, USA
If you are as lucky as me, today you'd be watching 'Humanoid Baby!' by Will Jeffery. But do not let the sci-fi naming fool you. This new music video features zero humanoids, and very few babies to be honest.
Dramaturgy of 'Humanoid Baby!' is pretty intense. With the first scenes we are introduced to the diverse gang of Mr. Jeffery who is celebrating something in a clubhouse. The music is not playing yet, so it kinda looks like a Benetton commercial. Bois are drinking champagne from plastic cups, but then it's time for some good old DUI. Thankfully, the protagonist unexpectedly falls asleep by the wheel.
And then all of a sudden the song kicks off in the dimension of dreams. That's some very 2010 Hip-Hop, with moderate flow, Trap-ish autotune, and an ultra basic beat. The lyrics are – how do I put it – rudimentary. Author raps about daily robbery, being truthful, humanoid babies and other essential OG stuff. Remember the era, when all the new rappers were influenced by 50 Cent and D12? That's that.
But back to the plot. Will is borderline creepy smiling all the time, even during the next scene in some kind of a den. A cut in is played adding to the cinematography. Fast forward – the crew is hustling on the basketball field, and Will is lucky enough to take off his shades moments before he is hit with a ball to the head. Which could be a possible arch for a dream inside a dream storyline, but alas he wakes up all confused. Final frame – yellow flowers. That's some Lynch level shit.
Don't miss the EP "Time Before Humanoid", which contains the masterpiece we have endured today.
Text by Dmitriy Churilov