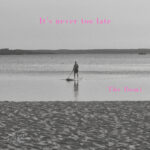 The Domi – It's never too late
Release Date: September 27, 2022
Label: Independent
Format: Single | Digital
Duration: 03:46
Genre: Indie Pop / Pop Rock
Origin: Paris, France
Track meets us with melancholic guitar, bass starts building rhythm, eventually, a drum machine appears alongside some soft and warm and comforting vocals. Melody creates a comfortable atmosphere and reminds me of indie video games, where you have to pass level by level. It's funny, but it kinda relates to my favourite indie video game – Night In The Woods. I feel really reckless when I hear the chord progression. It's an incredible and mysterious story about a girl that returns to her hometown and starts living a simple life after quitting college. She meets her friends, relatives and plays bass in a band. This song would be the perfect soundtrack for this game, because it tells a story about the time when you hang out with your friends and have a right to be a child. Precious summer moments of your childhood when you can forget about time, duties and just have a time of your life.
Also the name of the song perfectly describes the vibe that it creates. It goes without saying, that 'It's Never Too Late', and because of it I feel like a teenager while listening to this track. Exactly in this period of life your emotions are so bright and pure. And when you become older you understand that you have only one life, and such tracks remind you about it.
Lyrics are so motivating. It's all about common truths that we all know. It's about effort and strength to continue doing what you do. It's absolutely normal that we have fears that become a great obstacle for us. Very few of us can continue doing something after failing. And you are not alone in this endless struggle. That's life. And we all live the same life.
Moreover, when I hear the keyboard in this track I think of Gorillaz, especially 'Feel Good Inc.'. The moment when 2D sings: «Windmill, windmill for the land…». It's a very important song for me, because when I hear it I start to remember the most precious period of my life. As for Gorillaz music, 'It's Never Too Late' is close to 'On Melancholy Hill' for the feelings that grow inside of me. At that time I had my best friend's Walkman, and I listened to these songs on it. And it also was 'Clint Eastwood', of course. I had a wonderful playlist on this Walkman – Two Door Cinema Club, Kasabian, Billy Talent, Arctic Monkeys. I firmly believe that exactly in that time I fell in love with Indie music. That old Walkman of my best friends' elder brother started my journey in music.
Well, I like the chords on «As long as you live it, As long as you breathe it» too. The technique is so simple but creates an Indie vibe instantly. I hear something similar in Orla Gartland songs. Girl writes music and plays guitar herself. I really like such an approach.
The vocals remind me of Stauber's. It doesn't try to do what it can't and it fits the song perfectly. The vocals are as simple as the song itself. But it gives a feeling that everything is good, and nothing bad will ever happen. Vocal lives in harmony with other instruments, and creates a great journey for the listener.
By the way, I would like to say that I really enjoy the beginning and the ending of the song. In the beginning it becomes louder and louder second by second. And in the end it becomes silent. Such classic fade ins and fade outs were widespread in the 80s, but I like it so much!
The main merit of this track is that it perfectly deals with creating mood. I can't say that this track is somehow outstanding musically, it's so simple. I can structure it, understand how to create such a melody, but it's also a pleasure for me. Simplicity is not the burden. In the chorus I feel the summer atmosphere of the creeping evening, when the sun is going down, but there is so much to come and so much to expect. It would be amazing to spend time with your mates in the parking lot of a local mall. These are fantasies that rise in my head while I listen to 'It's Never Too Late'. Innocent and bright teenage period.
Text by Mati SHTHD