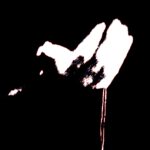 TheWave – Painture
Release Date: November 25, 2022
Label: Independent
Format: EP | Digital
Duration: 17:31 | 5 tracks
Genre: Alternative Rock
Origin: Switzerland
Good things come in simple packages. Enigmatic rock band from Switzerland TheWave proves it once again with their latest EP "Painture".
Little is known about the creating force behind TheWave, except for the fact that it comes from a tiny swiss town. This serves as a backbone to experiencing "Painture" – this release possesses a certain provincial amateur charm.
As the name hints, "Painture" is dedicated to mental health and feeling, as the author voices being in therapy for quite a few years now. Lofi bedroom production also comes as a chosen aspect, used to express the process of changing.
TheWave has always operated in a moody and darkish tone, bringing up the topics of misery, failure and relapse in his songs. And it's only natural that he resides in Grunge/Post Rock/Alternative territories as his primary means of expression. The first released album was way more ominous and depressive, still managing to show impressive Math Rock sound elements and catchy songwriting. Even though you won't be hearing any powerful vocals or intense guitar shred, TheWave creates a captivating world of outsider music, rooting deeply in such traditional acts as The Shaggs.
Following a couple of releases, "Painture" feels as a definite step forward – while still remaining in the amateur landscape, it definitely matures as a project, showing more emotional release and deeper storytelling. It is eerie, psychotic and always somewhere on the sad-scary spectrum. The opening 'Get Yourself a Life' might ring a bell for The Fall fans, maybe a bit of Scratch Acid. 'Painture' goes on with a more Alt Rock approach known to many and popularised by Polvo and such. 'Living for the Flesh' must be the most artistic number on this EP, giving the vibes of Polkadot Cadaver's frontman Todd Smith (the voice is different and shaky, but the theatrical wordplay has a lot in common with his projects). 'We Can Do It' is the closest thing to classic Dad Rock with power chords and weirdly mutated 'Paradise City' lick.
I'd like to pay a little extra attention to 'Blood', the closing track. With this song TheWave manages to capture that moment of creating an unintentional hit. 'Blood''s sound has the acoustic elements and a very touching melody. Something about it just screams "HUGE FUCKING BAND HERE, DO NOT MISS". The progression that follows the last chorus (that is amazing on it's own) is a pure heartbreaker.
TheWave doesn't look to impress you with shiny artworks, million dollar production or glamour. It's a therapeutic vehicle that grew into something bigger than itself, winning a substantial amount of fans on DSPs. And count me as one of them now.
Text by Dmitriy Churilov