This coverage was created via Musosoup #Sustainablecurator – a contribution was made by the artists to help sustain website costs.
Click here and run your own campaign on MusoSoup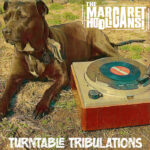 The Margaret Hooligans – Turntable Tribulations
Release Date: October 21, 2022
Label: Independent / Piety Street Publishing
Format: Album | CD/Digital
Duration: 48:33 | 9 tracks
Genre: Garage Rock / Noise Rock
Origin: Bala Cynwyd, PA, USA
Out of the BoomBox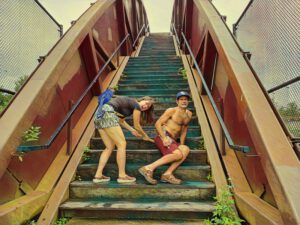 Not long ago, it was at the beginning of the third quarter of the year 2021, The Margaret Hooligans from Pennsylvania released their first longplayer. 385 days later, the follow-up album to "BoomBox Blasts" is out. Both albums were written during lockdowns, but for the recordings of "Turntable Tribulations", The Margaret Hooligans could leave their home and had thus more freedom for working on the album. This is what marks the first big point that differentiates "Turntable Tribulations" from "BoomBox Blasts": the sound is defined more, cleaner and tighter. Also, not being locked up has left its traces of the sophomore longplayer which might predominantly be audible between the notes, but they are there.
Nevermind Garage Rock – This is Kitchen Noise!
The list of instruments used on "Turntable Tribulations" is small but it creates maximum effect. Vocalist Meg Cratty has her electric ukuleles amplified with heavily distorted effects and thus makes the small instrument drown out strutters with big-ass Explorer-style guitars. Percussionist Mr. Strontium supplements his set with plenty of elements that can be found in the kitchen, such as pots, cups, spoons, etc. The backing vocals by Strontium often pop in as sidekick jokes to Crattys vocals, and thus the two musicians perfectly complement to each other.
Together, The Margaret Hooligans create a various bouquet of sound made with minimal resources. Sometimes atmospheric, often loud and snotty, and always thrilling, Cratty and Strontium create their very own sound that goes far beyond Garage Rock or Punk.
Shutting the Big Mouths
"Turntable Tribulations" and the songs on it were born during the pandemic and the lockdowns. That means, they were inspired by an episode when many people had way too much time. This had many effects, and one of them was people being online and on social media far too much. The Margaret Hooligans were obviously fed up with all the fat tongues that began blabbering like crazy. That is why a certain part of "Turntable Tribulations" is about all the drivel in the world and the whish for it to stop.
With clear words and a great sense of humour, the duo conveys this message on their catchy tunes. Other tales told on "Turntable Tribulations" are the story of the drunken and unlucky housewife 'Oh Lord Hit it', the media critical rock opera 'Psycho Diapers'. Also, the dystopian fairy-tale 'Red Rider' metaphorically takes on the current situation of Planet Earth, and with 'Pete and Roger', The Margaret Hooligans pay tribute to their musical influence The Who.
You need to listen!
And just like that, The Margaret Hooligans play the soundtrack that we never asked for but needed all the time. It is the sound of those who are often overheard because their voices are drowned by the clownish squallers. This is what makes "Turntable Tribulations" so refreshing, so empowering, and so free.
8/10 Mangoes
All pictures by courtesy of The Margaret Hooligans