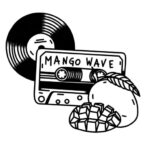 In this series we look back into the year 2013 by reviewing an album from this year every other week.
Want to advertise on MangoWave?
Send an e-mail to raphael@mangowave-magazine.com
---
The Ealing Three's third Trick
Big TV was the third album by West London's Jack Lawrence-Brown, Charles Cave and Harry McVeigh. The trio had previously released their debut album To lose my Life… in 2009 and the sophomore longplayer Ritual in 2011. So far, including the album Big TV, White Lies have released a new album every other year. That regularity should then end after the third album as since then White Lies extended the intervals between two releases to three years.
Soulful and dreamy
Big TV was the last big success by White Lies, and it clearly marked the band's ambitions towards pop music. The band's Post Punk infuences mostly watered down into a dreamy and emotional New Wave sound. With strong bass lines and partially funky, often times atmospheric guitar tracks atop, White Lies paint melancholically beauitful pictures in sepia colours with their songs. The twelve tracks on Big TV are indeed catchy, and the whole album is great for long rides or endless nights under clear summer skies.
Dream Pop Rock
Developing original ideas from 1980s New Wave and Dream Pop, merging them with Indie Rock, White Lies have created twelve catchy tunes. Somewhere between Depeche Mode, the Petshop Boys and The Libertines, Big TV invites lovers, romantics and dreamers to a joyful dance. Altogether, the album contains some of tiny highlights like Getting Even which stick out of an average Pop Rock album.
Next up in this series: Vista Chino – Peace